Welcome to our Coffee Chat series, where we'll be getting to know "Logicians" from our Connected Hubs who make Logic20/20 a great place to work. Today we're grabbing a corner table with Lead Software Developer, Greg Bouwens, who lives in Seattle, WA. So get yourself a beverage, pull up a chair, and join us!
Can you tell us about your journey to Logic20/20?
I was working with the health insurance company Premera prior to being at Logic20/20. During the pandemic, I thought that would be a solid place to continue working but they had a big layoff and let go of all the contractors and about 1/3 of their staff.
I had a couple of people already suggest Logic20/20 so I applied and got an interview. I talked to Lada Kesseler and Mike Ashby and it just felt right. I've been doing professional services and consulting pretty much in my entire career, so it was a very easy transition. Also, Mike told me that I'm the only person that they'd ever hired who was both a Lead Architect and a Lead Engineer, so that made me feel good too.
What does a typical day look like for you?
I'm currently working at T-Mobile on the customer assist team building a chatbot for agent and customer experience. My typical day starts with a stand-up meeting in the morning, followed by a technical meeting, and then a lot of collaboration with teammates.
I have a technical role and a delivery role, and right now it's a lot of DevOps. Git is the most common source control system on the planet, so we're using GitLab to check in the code, put it in an environment, and try to get what you have built into a certain spot and test it.
It's a big system with a lot of coordination. I've been doing Angular for the first time for the last couple months, but I'll be moving back into a back-end, Java role where I'm much more comfortable.
Is Angular something new that you were learning for this role?
I learned for the role. There was a Russian national in the role previously who ended up getting caught up in the worldwide, geopolitical turmoil and suddenly was unavailable.
Now, we have a straight Angular developer working with us so now I will start my day at 5am on a Slack meeting with this developer. He's not new to Angular but he's new to our client so I spend time mentoring him.
What inspired you to take on the role as a lead software developer at Logic20/20?
I like building things and I really like big technical challenges. I wanted to work in a role where I felt like I was stretched and constantly growing. I feel that in my role with Logic20/20.
What's the best advice you've ever received?
The best advice I've ever gotten is to finish the corner earlier and get on the gas sooner. I raced motorcycles for years at an amateur level. I was able to do it all over the West Coast and won championships.
After I'd been racing for a couple of years, I was stuck. I was going fast, but there was a gap between me and the top group of guys and girls that were racing, and it seemed insurmountable. I was able to hire a coach, Doug Polen, who's a two-time world champion. He helped me see that I was going too far into the corner and compromising my exit, which was slowing me down. It was such a cosmic, Zen change. You could make this corner a different shape and cut seconds off your time. All my friends were just astounded at the immediate transformation.
The reason why it's such good advice, metaphorically speaking, is sometimes you're trying hard at something, and you hit a wall. I was fortunate enough to seek out really great instruction from this world champion and he gave me this concrete tip that I was able to implement quickly, and it changed my whole philosophy. I was then able to look forward and see achieving my goals, instead of just looking up to it.
What books, podcasts, etc. have influenced you?
I read a lot of essays and how-to articles on Medium, which is my main source of inspiration.
Also, right now I am reading a book called Peak Mind, which is a guide to mindfulness. One of the first lessons in the book debunks the idea that everybody has a tough time paying attention because of technology and smartphones – it's not a new problem! The author says that there are lots of stories from the 1400's about monks trying to do their meditation and complaining that they cannot concentrate, which has nothing to do with technology. It is about understanding how your mind works.
I read some of that on vacation this past week and didn't look at a computer for over 10 days! That was the longest I've been away from a computer in a long time.
What's your favorite memory living in Washington?
When I was little, I was in Pasadena in the LA area. I moved to the Seattle area when I was 12 and I'll never forget that excitement when it snows for the first time. You know that feeling. That's one of my favorite memories.
Also, I was in the University of Washington Husky Marching band. I played trumpet. Some of those memories of being out in the middle of Husky Stadium with 90,000 people screaming their lungs out, that was really fun.
And a lot of rain.
And finally, … how do you take your coffee?
Black.
I've appointed myself to make coffee for myself and my wife in the morning. For a while, we were going to Starbucks, but we decided to make coffee at home. I have burr coffee grinder and a fancy drip coffee maker, but I can't tell you how many ways I've found to screw up making the coffee in the morning – maybe I need coffee before I make my coffee? 🙂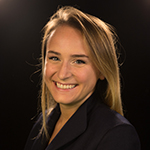 Courtney Lynch is the Senior PR & Marketing Specialist at Logic20/20 and media contact.