Quick summary: Logic20/20 team members share their personal insights on what Pride means to them.
In honor of Pride Month, we asked our fellow "Logicians" to share their personal insights on what Pride means to them, the importance of allyship in the workplace, and how Logic20/20 supports team members who identify as LGBTQ+.
Here's what they had to say …
"What does Pride mean to you?"
"A chance to celebrate what makes each of us unique, celebrating dynamic communities and celebrating people living their truth." – Eric N.
"Awareness, celebration, embracing differences and individuality. Supporting LGBTQ+ policies, initiatives, and community." – Liz G.
"Pride celebrations globally are a way to send a message that there are others out there like you and it's okay to be … you." – Scott O.
"It means everyone should be allowed to feel comfortable with their true self and should never feel afraid to be their true self in any social setting." – Joe B.
"Pride means that anyone can express themselves as an individual regardless of their sexual orientation." – Tony D.
"What is the importance of allyship in the workplace?"
"Straight allies are in a unique position in that they may overhear things that LGBTQ+ people don't. A good ally will point out that comments like that are not OK, regardless of whether there is an LGBTQ+ person in the area." – Sylvie N.
"To have allies means there is zero tolerance for discrimination and that it will be stopped and acted on if seen, to create a safe and welcoming environment for all employees." – Liz G.
"As an ally, … I do my best to make sure everyone is included when I speak and act in the workplace, and if I mess up, I hold myself accountable and fix what I need to fix." – Joe B.
"Allies help create a more welcoming, safe environment and help the members of the community overcome prejudice and injustice." – Anna E.
"Having allies in the workplace creates a greater sense of belonging; one might even say, allies embrace the true 'Culture of We.'" – Lauren M.
"How do you define 'ally' as a verb in the workplace?"
"Allyship encompasses action through looking out for others, listening, speaking up, learning, and driving change." – Anisha W.
"To me, an ally is someone who makes others feel seen and heard. Those two feelings run deep, and I think it's wonderful to understand another human in such a connected way." – Lauren M.
"Supporting someone who is experiencing bias due to others' thoughts on their lifestyle" – Mick W.
"If you identify as LGBTQ+, how have you felt supported at Logic20/20? "
"[CFO] Ellen [Boyer] and [CEO] Christian [O'Meara] knew my spouse before I took this job so I came in knowing that wouldn't be a barrier to my success. Along the way nobody has ever reacted negatively to the news that my spouse and I are both men, and both I and my spouse have felt welcomed and celebrated." – Scott O.
"I've had jobs where I was the only openly LGBTQ+ person there, and while sometimes this is unavoidable, it can feel like a burden. When I joined Logic, I was happy to see that there were many other LGBTQ people, not only in the company but also on my team. I am proud that my team is committed to diversity, equity, and inclusion of all kinds." – Sylvie N.
At Logic20/20, our respect for all persons, regardless of race, gender, or lifestyle, doesn't start and stop with Pride Month. It's woven into the fabric of our organization and infuses everything we do. We're delighted to celebrate the rich diversity of our team and to honor the individuality of every person who makes Logic20/20 a Best Place to Work—365 days a year.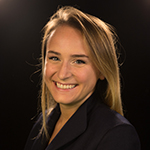 Courtney Lynch is the Senior PR & Marketing Specialist at Logic20/20 and media contact.