Hit the mark with scalable compliance operations
To ensure compliance with industry, state, federal, and global regulations, businesses need subject matter expertise in a broad range of disciplines as well as the bandwidth needed for continuous monitoring. Ramping up these capabilities in-house and operationalizing regulatory requirements are not always possible or cost-effective, and the risks of falling short can be significant.
Logic20/20 delivers a blend of regulatory knowledge, operational know-how, and technical expertise to help you meet your compliance obligations and remain ready to respond to regulatory inquiries. We'll ensure your people, processes, and technologies are all aligned to support effective, efficient, and scalable compliance management.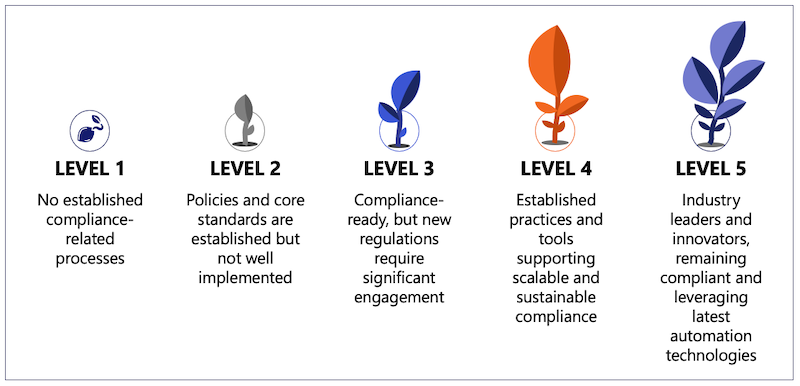 Compliance Maturity Model
Your journey begins with an assessment of your organization's current state according to our proprietary Compliance Maturity Model.
Compliance managed services
We've gotten compliance as a service down to a fine art. You can stay focused on the big picture and let our elite teams manage:
Your day-to-day compliance processes
Incorporation of new regulations into your compliance program as they arise
Policy and process adjustments as needed due to factors such as new technologies or entry into new markets
Compliance process optimization
Logic20/20 applies a standardized process improvement methodology to update and fine-tune your compliance processes, with a focus on filling gaps, eliminating redundancies, and ensuring scalability.
By tracking specific KPIs, we'll monitor progress towards your process optimization goals and identify opportunities for continued refinement.
Regulatory response readiness
Regulatory inquiries can occur at any time.
We'll help you stay ready for them by ensuring the data required for your response is always up to date, compliant with established standards, and readily accessible by authorized members of your compliance team.
Compliance automation
Activate technology to automate rule-based compliance tasks, resulting in reduced manual effort and improved efficiency.
Discover how automation can help you curb overall compliance costs and free up employees to focus on more strategic, value-added activities such as risk assessment, policy development, and stakeholder engagement.
Validating a utility's vegetation management plans for WMP compliance
Mobilizing data privacy as a service (DPaaS) for industry-leading gaming company
Taking the stress out of a utility's compliance reporting
Responsible AI
Our AI and machine learning experts ensure that your applications continue to deliver business results while also generating ethically sound outputs that respect individuals and promote trust.
Data Privacy
Logic20/20 delivers the regulatory and data management expertise to help you ensure present and future alignment with GDPR, CCPA, CPRA, and other applicable data privacy regulations.
Accessibility
We help you ensure that your digital properties align with Title III of the Americans with Disabilities Act (ADA), Web Content Accessibility Guidelines (WCAG), and other regulations in serving people with disabilities.
Industry-Specific Regulations
Our experts help you navigate the ecosystem of global, federal, state, and local regulations that apply to your industry and put in place the people, processes, and technologies to ensure compliance.
Embracing the future of digital accessibility: AI-powered inclusivity for all
Preparing for CCPA compliance: 3 lessons from GDPR
Let's talk about compliance.