Quick summary: Logic20/20's unique interview process helps ensure that every team member has what it takes to contribute to our "Culture of We."
At Logic20/20, one of the three values that drive everything we do is "Foster a Culture of We"—we go above and beyond to support one another and leverage our individual strengths to benefit the team and to do the right thing. Having experienced many different organizational cultures—from Big-4 consulting to small, privately owned software companies—I can attest that Logic20/20 lives by its values.
Our success as a company and the strong partnerships we have built with our clients rely on every team member living out this principle every day. So when we interview candidates for open positions, we go to great lengths to ensure that every hire is a good fit for our "Culture of We" in addition to possessing the knowledge and skills that the opportunity requires.
Every year, we connect with thousands of highly qualified people to discuss opportunities in our client work and in our internal teams, carefully considering how each individual would contribute to our connected culture once they become "Logicians."
Of the many people we reach out to, only a small percentage will receive offers. This illustrates how diligent we are in hiring people who align with Logic20/20's values. When people resonate with our values, we find they are the most likely to thrive in Logic20/20's One Team environment—not only contributing to their coworkers and to clients, but striving to expand their skills, develop their careers, and maintain connections.
As a manager in our Strategy & Operations consulting practice, I'm actively involved in the interviewing process. So far this year I've spent over 40 hours conducting face-to-face interviews with prospective hires. One thing that makes our process unique is that technical skills encompass the smallest "slice" of what we look for in a new hire. Here's a rough estimate of how the slices fit together: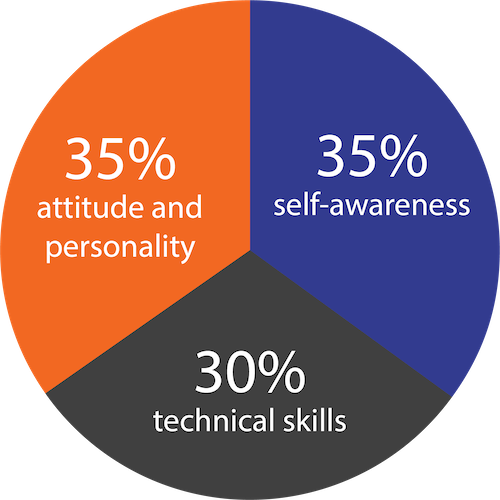 Personally, I look for character traits like humility, resiliency, a collaborative spirit, and healthy assertiveness. Candidates can express personal and professional self-awareness by confidently sharing an understanding of where they are (in their career) and where they want to be. A good formula for this could be "This is what I'm good at, the type of person I am, and where I want to be in five years."
During the interview process, we focus on having real conversations. We paint a real picture of day-to-day life in the role, on the team, in the practice, and at Logic20/20 overall. Because we're a relatively small firm (compared to, say, the "Big 4"), we're able to invest in every consultant's career growth. Logicians are never "pigeon-holed" into one role and will sometimes find themselves wearing more than one hat. That's why I make sure the person is willing and able to manage multiple projects and clients without being micro-managed. Finally, we talk about the need to build an internal brand, to become known for certain skills or capabilities that fellow Logicians can call upon when and where they're needed. 
One question I always ask myself when deciding whether to recommend a candidate is "Would I trust this person to support my deliverables while I was on vacation?" If I can confidently say "yes," I'm happy to give them a thumbs-up for advancement to the next round.
It's no accident that Logic20/20 has been named a "Best Place to Work" for six years in a row. We are on a mission to build teams that not only have the technical ability to get the job done, but also embody our values—especially "Foster a Culture of We"—in everything they do. And it all starts with the people we invite to become part of the Logic20/20 team.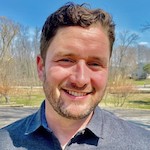 Sean Quealy is a Manager in Logic20/20's Strategy & Operations Consulting practice.