2020 was a pivotal year in many ways. We all learned a lot about coronaviruses, public health policy, and even ourselves as we dealt with lockdowns during the COVID-19 pandemic. As we look at analytics trends in 2021, the impact of what we have experienced over the past 12 months becomes evident.
Most businesses accelerated their digital transformation roadmaps as working remotely became the norm, video meetings became our main way of connecting, and access to tools and data became even more critical. It became even clearer that effectively executing digital transformation requires a well-thought-out data strategy—the data engine that drives digital transformation forward.
Need help with advanced analytics in 2021?
I've identified three key analytics trends in 2021 that are worth watching:
2021 Analytics Trend #1: Updating the care and feeding of AI and ML platforms
Most business planners did not prepare for a pandemic of these global-spanning proportions. COVID-19 was a classic example of a "black swan" event, a term coined by Nassim Taleb. We always knew a pandemic could happen, but the low probability of its occurring made it easy to ignore year after year.
The pandemic exposed lots of limitations in our business planning, especially in supply chain management and the need to change core business components (for example, curbside pickups, video conferencing, employees working from home). What may not have gotten immediate attention was the impact of core data and statistical assumptions in our machine learning (ML) models.
Which brings us to the 2021 analytics trend concerning AI/ML platform maintenance. Many analytics departments will need to re-evaluate their statistical models and understand how data prior to the pandemic has core differences from customer and economic behavior during a pandemic. There are many questions to consider, including
• How accurate were your models this year, and did your feedback loop address them?
• How much of your old data can be trusted to predict the future?
• Are your models overfit to irrelevant data?
• What inflection points will make prior data relevant again?
• Exactly how much new, COVID-era data do you need to run your critical AI/ML functions?
• Are your ModelOps retraining your data often enough?

2021 Analytics Trend #2: Using data to improve management of remote teams
In 2020, I really learned how much I need and cherish face-to-face time with my teams. Being in the same room and picking up on body language and tone of voice helps every manager know when to push, when to coach, and when to just listen. My teams have quickly adapted to being a "video first" practice, but is this a good thing? Will I ever have all my teammates in the same room again? Can my teams innovate without an in-person whiteboarding session?
This is why trends for analytics in 2021 will include data playing a larger role in providing a comprehensive view of your team. New versions of Microsoft Office 365 provide information on each team member's usage of Office applications, answering questions such as "When are emails being sent out?" and "How much time is spent in Word?" While this data may be interesting (and feels like a bit of a privacy invasion), it doesn't relate to true productivity and how much value your team is generating.
More importantly, it's vital to identify when teams are losing their effectiveness or entering burnout. Using analytics that paint a 360-degree view of the employee will help complement traditional management approaches to understanding productivity and help us form better development teams. Finding anomalies in people data can help us know when to reach out to a teammate directly or send a care package.

2021 Analytics Trend #3: Going back to the future with the analytics stack
Several macro-economic factors have generated a flood of venture capital investments in ML and AI startups. This created a surplus of technology that was never going to last, as the industry doesn't need 20 tools to visualize data and 25 AI/ML SaaS platforms. There has a been tremendous activity in M&A by Google (buying Looker), Salesforce (buying Tableau), Microsoft (buying Slack) and Amazon to address product weaknesses in the end-to-end stack.
Which brings me to a third analytics trend in 2021: As the big tech companies try to lock in customers with the ease of end-to-end analytics, companies will have to decide on either committing to a single platform or designing around flexibility.
Consolidating to a single stack does bring advantages, but it also brings the cost of data and platform migrations, all while you're hoping you've picked the right stack. Maintaining flexibility means (1) having a well-architected data platform to easily snap into new systems and (2) ensuring you don't overengineer towards a specific tool (i.e., limiting your business logic being ingrained in visualization tools).
If you want to ease your way into a single stack, how will you identify usage across the different tools? How can you ensure your business users, who probably don't care about platform choice, have a compelling user experience that improves decision making? Using an analytics hub to monitor and seamlessly bring together technologies can help you decide where to invest and make any migrations seamless to the business.

As we cautiously enter 2021 with the hope of a vaccine bringing us closer to normal, most of us are expecting at least the first three quarters of 2021 to present challenges similar to those of 2020. However, if we re-evaluate our five-year business plans, the core tenets to focus on remain the same:
• Delight the customer.
• Improve profitability.
• Expand market share.
• Use data to make better decisions.
We know there will be surprises in 2021, so having the right data ready at the right time to execute strategic pivots will further separate top-tier businesses from their competitors.
If you would like to discuss how data can improve your digital transformation strategy, please reach out to set up a workshop where we can help you get ready for the analytics trends of 2021.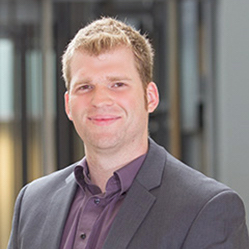 Mick Wagner is a Senior Solutions Architect in the Advanced Analytics practice at Logic20/20.