Seattle, WA, September 2020 – The San Francisco Business times announced that they have selected Anisha Weber, Managing Director at Logic20/20, as one of their Most Influential Women in Bay Area Business for 2020. 
This award recognizes Bay Area women who have made a difference as outstanding leaders in their organizations and communities, representing public and private companies, educational institutions, nonprofit organizations and government entities.
Anisha was chosen for this award because she is an engaged executive who is always ready for a new challenge. One of her more recent endeavors was taking on the role of executive in charge for Logic20/20's Diversity, Equity, and Inclusion committee. When she isn't at work, she continues to provide her time and skillset to numerous boards and service organizations. She serves as a San Mateo County Commissioner on the Status of Women, where she focuses on topics such as STEM for Young Women, Human Trafficking, Women's Leadership Conference and Hall of Fame, and Women in Tech.
Anisha notes that over the course of her career, she is most proud of her ability to lift up other women. "I am most proud to have supported the growth of over 40% of the women in our company" says Anisha. In addition to her commitment to equality, she is also proud of her remarkable ability humanize technology with kindness and integrity for her numerous clients.
Anisha celebrated her 20th anniversary with Primitive Logic, now Logic20/20, earlier this year. Learn more about Anisha in her award profile here: https://www.bizjournals.com/sanfrancisco/news/2020/05/29/most-influential-women-in-bay-area-business-2020.html#g/468961/96.
The Most Influential Women in Business awards event will be help virtually on October 9th from 1:00-2:30pm. The public event will be followed by an honoree-only VIP virtual reception. View the full list of San Francisco Business Times Most Influential Women, and learn more about the award here: https://www.bizjournals.com/sanfrancisco/news/2020/05/29/most-influential-women-in-bay-area-business-2020.html.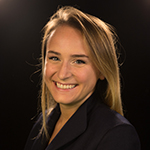 Courtney Lynch is the media contact and Marketing & Public Relations Specialist at Logic20/20. She has spent the last 7 years working in PR and Marketing in various markets, and joined the Logic20/20 team to spearhead PR initiatives as well as help with general marketing.