I've always had a passion for sports. I began playing rugby in my school days, then added coaching. I've now been lucky enough to coach rugby and soccer for 10 years. Many of my coworkers and friends come from these communities, and I continue to play as often as I can.
As I reflect on those cold nights doing push-ups in the rain at practice, perseverance comes to mind. The dream of winning the league title—ambition comes next. Laughing and joking around when there were moments to spare then switching mindset when it was game time. Rebuilding from losses, staying humble when we won. Keeping focused, always aware another team was training just as hard to take back the cup. Being there for each other.
My professional career started in sales and moved to leadership. I relate to my time on the field every single day. In business, what does it mean to feel supported? How does it feel to work for someone you admire? Alternatively, what does it mean to lead, to support, to foster growth? How does one define a successful leader?
These are questions I ask myself nearly every day.
In a lot of ways, a successful business operation is like a successful sports team. When Logic20/20 was founded in 2005, I used my experience as a player and a coach to help shape the philosophy and values that form the pillars of our company culture. The lessons below are some that have helped make Logic20/20 the thriving consultancy it is today.
1. A great coach makes all the difference.
As a leader, it's important to be present for your team, even if being present is just for the few moments it takes to ask how their day is going, hear how they answered, and feel whether we were authentically interacting. If it wasn't authentic enough, take the time to stop and go back. These things are important. In the big picture, look to be transparent, open to feedback, and focused on team goals. It's natural to want to have fun. Laugh. We encourage our team to be authentic to who they are too.
By organizational structure, I am the leader of my company. My belief of leadership is that I serve those that I lead. Just like a coach must earn the respect and trust of his or her team over time, a business leader's status must be earned—and vigilantly maintained. There is no replacement for a great coach or the learning and support they can provide.
2. A team can't be successful without trust.
Trust is a key element in all our interactions. We form trust by prioritizing preparation and good intent. We work hard and play hard, forming bonds with each other in the office and outside it. A bonded team of 15 is much stronger than the individuals! Together, we have built a reputation for being trustworthy, which we see in our customer satisfaction surveys, and I'm especially proud of that.
Every quarter, the leadership team reports to the entire company where we stand on the same five key initiatives. This lets our employees know that their leaders are open in knowledge sharing for both the good and the bad, the ups and the downs, and they understand that we are a team together.
3. The best teams plan to win and lose.
Understanding the win/loss rhythm is essential for a team's long-term success. It teaches people to maintain perspective during difficult times and to always strive for better. To lose well requires self-reflection, the ability to pull your team together, and to head into the next round with the plan and expectation of winning. To win, a team must train properly, and this requires investing in the right equipment. In business, this can mean supporting your employees by paying for certifications or ensuring you're following industry-standard best practices, or simply meeting weekly as a team to review any areas of concern.
4. Opportunities are everywhere; it's how you seize them that is important.
A "lean-in mentality" supports people putting themselves out there and trying. It's my belief that you should try ten ideas and be happy if just a fraction are a success. So long as you learnt through the process. Collaboration is a process and a team needs time and space to gel. If someone is wrong, don't tell someone to spite them, tell them to teach them. People should have space and confidence to get creative and push themselves without fear of retribution.
5. A good attitude goes a long way.
Positivity focuses our attention on the best in every circumstance, colleague, or opportunity. It's also contagious, regardless of where it comes from. In business, this is an essential element to teamwork, effort, and success. A positive culture encourages employees to work hard, ask questions, offer an opinion, and keep their eye on the prize. What better way to work?
6. Winning is most valuable when it's a team effort.
Everyone here wants to win. Who wouldn't? That drive is essential to getting things done. Part of our company culture is that we are honest and transparent, no matter when or where. That means employees are encouraged to be themselves, and we never ask them to be anything else. Every person has value, and it's our job to create an environment where they're able to use those skills and talents to achieve great things. Employees can work closely with coworkers from across our organization to define career strategies, increase skills, or mentor others.
A true team effort makes use of every player, and wins are that much sweeter when every person has a chance to contribute. In the long run, this participation builds strong bonds between coworkers who feel valued and useful.
Logic20/20 has received many accolades. One I'm most proud of is Seattle Business Magazine's 100 Best Places to Work, which we've received for four years in a row. I can't wait to see how our team continues to grow and find success.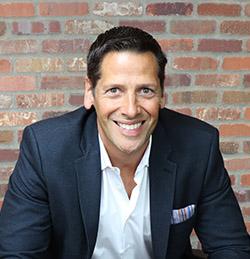 Christian O'Meara is Chief Executive Officer and co-founder of Logic20/20, which he started in 2005 with a belief that a group of like-minded people, doing work that they love, can accomplish great things. Much of his time is spent managing strategic business-development initiatives and recruiting key personnel according to that philosophy. Outside of the office, you can find him with his children or out on the rugby pitch.