Logic20/20 makes it a priority to recognize its employees—"Logicians," as we call ourselves—and its strong company values through an array of reward and recognition programs, particularly the Logical Values Award. The LVA is presented twice a year to a Logician who exemplifies our company values: Act with Integrity, Drive Toward Excellence, and my favorite, Foster a Culture of We. The prize? Logic20/20 finances a trip for the employee to anywhere in the world. I'm proud to say that I earned the Logical Values Award in June of 2020.
The award can be put towards a trip of a lifetime, or in my case, an opportunity to spend priceless time with my family in Australia. What this prize allowed me to do in a time of COVID, a time when so many plans have been put on hold—birthdays, weddings, celebrations, vacations, etc.—was to go home and be with my family, and for that, I am eternally grateful.
Through this award, Logic20/20 gave my family a priceless gift: time. Time to spend with loved ones, time for my girls to play with their cousins, time to reconnect, and time to reflect on what is important.
My favorite value
As an adult, that feeling of belonging, especially when you're an immigrant, is also important. That is why I so deeply appreciate Logic20/20's focus on culture and why "Foster a Culture of We" is my favorite value, one I aim to embody in all my interactions. That focus made me feel like I belonged, like I had finally found my tribe. I felt that I could be my true self, and that in itself is priceless and liberating. I truly consider my fellow Logicians as extended family members, and I know that, for so many of my colleagues, this sense of belonging is what keeps us happy, engaged, and feeling valued at work.
What did I do?
So, what do you do when you're given money and told you have to spend it on a vacation? My answer: all the things!
I took my girls to Sydney and we explored Bondi Beach, Sydney Harbor, and the Opera House. I went to Cairns and snorkeled the Great Barrier Reef with my little one, explored Tangalooma Island with my blended family, spent weekends at the Gold and Sunshine Coast, ate amazing food, … and of course, soaked up family time!
My favorite memories
I have two favorite memories of working remotely—one personal and one professional.
Personally, one of my favorite memories was spending time with my stepson's family watching him play beach rugby with his friends. The sense of belonging that I feel working at Logic20/20 is now shared with my daughters and my stepson. They both know that no matter where in the world they are, they belong and they are loved.
Professionally, I was able to connect with one of our consultants who lives 15 minutes from where my parents live! The ability to connect in person when most of the world was stuck in "virtual mode" was a much –needed remedy for my soul.
Also, through hosting virtual round tables and having virtual one-on-one chats, I've been able to connect with people from other parts of our organization. Along the way, I'vehad the chance to develop deeper relationships by learning and sharing things we may not have been able to share in an in-person environment.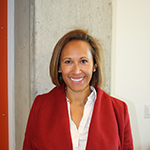 Jade Wall is an Executive Assistant at Logic20/20. In her role, she enable those around her to succeed, supporting the sales, marketing, and talent acquisition teams, as well as the SVP, North America.