Welcome to our Coffee Chat series, where we'll be getting to know "Logicians" from our Connected Hubs who make Logic20/20 a great place to work. Today we're grabbing a corner table with Sandeep Rajan, Product Manager, who makes his home in "America's Finest City", San Diego! So get yourself a beverage, pull up a chair, and join us.
Tell us about your journey to Logic20/20?
"I recently joined Logic20/20 and was onboarded in April, 2022. After having spent over a decade with Premera Blue Cross, I was looking for a change in direction. My goals were to challenge myself in a new environment, continue to grow in the Product space and work in cutting edge environments to solve problems and deliver solutions."
"I was excited by the prospect of working with different clients, industries and teams in Consulting which Logic20/20 made possible, and I am glad I made the move!"
What does a typical day look like for you?
"My day typically starts off with a stand-up meeting where my team discusses work progress/roadblocks and 'parking lot' topics. This is followed by additional meetings that involve collaboration with other cross-functional teams and leadership. The meetings cover a variety of topics including product design, ideation and product strategy, backlog grooming, retrospectives, budget, and PI planning."
What attracted you to this role as a product manager at Logic20/20?
"Logic20/20's recruitment process was one of the smoothest and most pleasant experiences I've had."
"The opportunity Logic 20/20 provided to work with a Data Science team at T-Mobile was the primary reason that helped me decide my next career move."
Who is your role model?
"Listing three: Dwayne 'The Rock' Johnson, Sathya Nadella, Sundar Pichai"
I know you are new to the area, but what is your favorite part about living in San Diego?
"The weather was the obvious reason but along with that, I enjoy the beaches and the laid-back vibe of San Diego. I am also finding out that San Diego has a wide variety of cuisines which my wife and I will continue to explore!"
What's the best advice you've ever received?
"A mentor in my previous workplace told me this and it has stuck: To grow, you must embrace the discomfort. The transition will be uncomfortable and scary, but that just means you are growing."
And finally, … how do you take your coffee?
"I'm not a coffee drinker. But I don't have a preference whenever I do drink it. Milk, black, I'm flexible."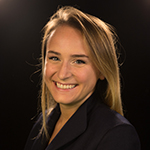 Courtney Lynch is the Senior PR & Marketing Specialist at Logic20/20 and media contact.