Welcome to our Coffee Chat series, where we'll be getting to know "Logicians" from our Connected Hubs who make Logic20/20 a great place to work. Today we're grabbing a corner table with Client Director Shelby Mastroianni, who makes her home in San Diego, CA. So get yourself a beverage, pull up a chair, and join us!
What makes San Diego a great fit for Logic20/20?
"San Diego is a great city to live in—perfect weather, lots of things to do—while still offering convenient transportation to other hubs. It's easy for me to collaborate closely with teams in Los Angeles and elsewhere in the SoCal Hub, and flights to San Francisco and Seattle take just a few hours."
What are some of the ways we maintain culture for folks like you in a hub location?
"Logic20/20 is intentional about giving remote employees a sense of connection, whether they're sending out gift cards or snack boxes or inviting online collaboration. Each hub also has its own ongoing Teams chat, so I can get to know the people in my area and meet up with them in person. Recently one of our consultants booked an Airbnb in San Diego for a month, so we "adopted" her into our hub during her stay, which gave us a great chance to get to know someone from another region."
When you think about San Diego, are there specific types of projects or industries you'll likely be targeting?
"I do a lot of work with utilities, but because of Logic20/20's engagement model I'm not limited to that segment; your location doesn't determine which industries you work with. As clients are coming back into the office, they really appreciate the chance to meet face-to-face over coffee or dinner, and because I'm local we can do that."
What's your favorite thing about living in San Diego?
"I love the diversity of fun activities that the city offers. There are always concerts or other events happening in the park, or you run into people playing beach volleyball or going paddleboarding. Every weekend there's tons of stuff going on—plenty of opportunities to meet new people. Whether you're in the mood to have a beach day or to go downtown, you have a lot of flexibility in the options available to you."
What's your favorite Logic20/20 company value?
"My favorite value is 'Foster a Culture of We.' At Logic, you can tell that people care about each other and that it's a culture focused on not only finding good clients but also finding good people. With so many of us working remotely, I find it's even more important to work with people you enjoy. Logic continues to demonstrate its commitment to hiring good people and creating work environments where we can support each other."
What are you most proud of?
"I would say I'm most proud of the resiliency I've discovered in myself over the last few years. I was one of the first Logic20/20 employees to move away from Seattle while continuing to work for the company. I came to San Diego not knowing anyone; at the same time, we were merging with (California-based) Primitive Logic, so I was working with a lot of new faces. Then, of course, the pandemic hit and we all had to learn how to function remotely. I experienced a lot of change in a short period of time, and after navigating all the ups and downs, I can still say I enjoy what I do and the people I work with. "
And finally, … how do you take your coffee?
"I take a triple grande almond milk sugar-free vanilla latte from Starbucks—preferably with a spinach feta wrap!"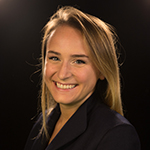 Courtney Lynch is the Senior PR & Marketing Specialist at Logic20/20 and media contact.