Incorporating Customer Service Platforms Into Your Customer Service Strategy
Customer Service Platforms compare to traditional customer service as smartphones compare to beepers. Customer Service Platforms (and smartphones) can access and analyze fantastic amounts of information, perform an enormous range of different functions, and get you precisely where you need to go. Traditional methods of customer service (and beepers) let you know that something happened earlier. Businesses looking to upgrade should probably lay their beepers to rest and pick up a smartphone.
Since their introduction in 2013, Customer Service Platforms have continued to change the game in customer experience strategy, rendering traditional, beeper-like forms of customer service obsolete. A sort of customer service renaissance has followed in their wake as leading companies in every industry – Vodafone, Backcountry, and IBM, for example – now fully invest in streamlining their end-to-end customer experience, and for good reason. Given the tectonic shift in customer preferences towards maximum convenience on their own terms, many organizations view the customer's experience itself as a crucial part of the product. The effectiveness of a business' customer engagement is now just as important as the actual goods or services the business provides.
This paper provides an overview of how Customer Service Platforms give organizations everything they need to create and maintain an all-inclusive, wraparound customer experience. We'll also take a look at how they reduce costs, decrease employee attrition, improve customer satisfaction, and increase revenue.
What are Customer Service Platforms?
Essentially, Customer Service Platforms are sets of tools and applications that integrate smoothly into a company's existing online presence. They consist of a customizable combination of AI, bots, built-in advanced analytics, and agent handling, aimed at providing a seamless, scalable customer experience from start to finish.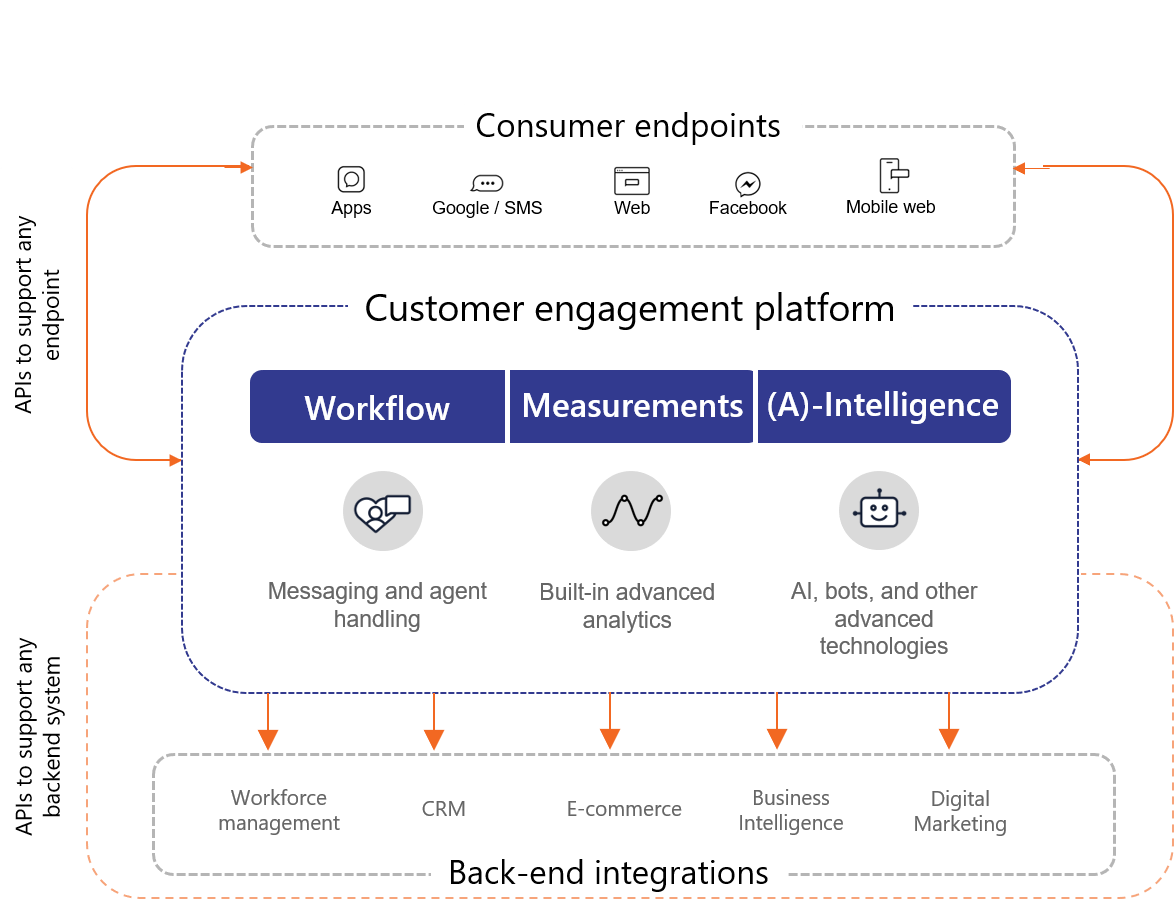 Perhaps their two most significant features, which we'll look at in detail later, include:
Multi-channel engagement:
Customer Service Platforms can engage customers on a wide range of channels, including SMS, web chat, social media, and Apple Business Chat.
Machine learning and anticipation of customer needs:
Organizations can determine the best next move in an interaction, then shoot targeted content to that customer at the moment they're most likely to be receptive to it.
Customer Service Platforms function somewhat similarly to the android Data from Star Trek. In one scene, he explains that his mental pathways grow accustomed to certain sensory input each time he interacts with someone. "The input is eventually anticipated," he says, "and even missed when absent." He can then engage with familiar people in more personal ways, anticipating their needs based on patterns and past information. While Customer Service Platforms might not be sentient enough to miss customers (yet), the other similarities are pretty compelling.
Why are Customer Service Platforms important?
Customer Service Platforms give companies a massive boost to keep pace with rapidly changing customer habits and preferences. Companies using Customer Service Platforms report greater customer satisfaction, lower agent attrition, reduced customer service costs, and increased revenue compared to those that do not. Below are some rather cogent statistics on Customer Service Platform usage.
CUSTOMER SERVICE PLATFORMS LEAD TO GREATER CUSTOMER SATISFACTION
Companies using messaging platforms report:
• Customer satisfaction scores nearly three times higher than those that use voice
• 186 percent greater annual growth in CSAT
• 96 percent higher customer win-back rate
That's pretty impressive. If we could compare these same statistics for pizza against those for burnt lettuce, the numbers would probably not be as dramatic as the ones above. Needless to say, Customer Service Platforms are very good at taking care of customers.
For years, consumers have continued to gravitate towards businesses that require minimal effort for maximum return (think Uber and Amazon). As a result of interacting with such companies on a regular basis, they expect the same level of seamless, unobtrusive service in all their dealings. Customers want messaging alternatives that fit more naturally into their daily lives.
LOWER AGENT ATTRITION
Customer Service Platforms also act as ultra-competent personal assistants to your agents. Recent research shows that:
• Businesses using messaging see a 143 percent increase in employee engagement
• Agent attrition rates drop from almost 40 percent to under 5 percent
This is because Customer Service Platforms instantly manage the dozens of crucial, lower level tasks involved with each customer interaction, from auto-filling basic information to scouring the customer's history for behavioral patterns. They can tastefully upsell products or connect customers with the most knowledgeable team for their particular need. Because 80 percent of customer inquiries are FAQs that can be answered by a Customer Service Platform bot, agents are free to focus on the more interesting questions. Customer Service Platforms dramatically improve the jobs of the agents they assist.
REDUCED CUSTOMER SERVICE COSTS
• Messaging platforms and bots cut customer service costs by 48%. Companies are shifting away from expensive, time-consuming voice calls
• Customer Service Platforms work at scale. Increasing volumes of customer inquiries do not require companies to hire a traditionally proportionate number of agents or buy more workstations. A single agent can handle many messaging conversations simultaneously.
INCREASED REVENUE
All of these benefits lead to a sizable bump in your company's bottom line. Businesses using messaging platforms report:
• 25 percent greater annual increase in revenue
• 8.6 percent higher profit margin per customer
• Furthermore, 84 percent of companies simply working to improve their end to end customer experience report an increase in revenue
Customer Service Platforms are the ideal tools for launching and sustaining a company-wide pivot in line with this new world order where customers call the shots. Individual, siloed customer service interactions no more. It's all about facilitating the entire journey of a customer through your company and watching it all happen through their eyes. Customer Service Platforms work in the weeds, taking care of all of the nitty-gritty details, and help your agents and company see issues on the horizon.
What do Customer Service Platforms feature and how do they work?
We'll start with some technical details and then move into a recent case study to see a Customer Service Platform in action.
MULTI-CHANNEL ENGAGEMENT
This is the first critical step Customer Service Platforms take towards integrating your customer service (and, by extension, your company) seamlessly into your customers' lives. Customers can engage the company at any time of day via:
• SMS
• Web chat
• Social media messengers
• Google search ads
• Apple Business Chat
Just like in other messaging conversations, customers can pop in and out of the conversation as they go about their day, rather than being tied to any particular task. They see indicators when a message has been received, seen, and when their customer care agent is typing a response. They don't have to change their habits or log in to different apps to reach your company's customer care.
BOTS
Bots in Customer Service Platforms perform all menial, repetitive tasks involved in customer support, like letting customers know their bank balance or if an item is in stock at stores within a certain radius. Other advantages of bots include:
• Natural language processing capabilities: Customers can message them as they would to any of their contacts
• Full customizability: Businesses can program their bots to understand key topics and respond or route interactions accordingly
• Agent support: Dedicated bots feed agents information as they interact with customers
Unlike the isolated chatbots in some systems, Customer Service Platform bots integrate fully with the system and with Customer Care Agents. They each receive a name and image identifying them as bots so that consumers always know who's on the other end. This increased transparency reduces frustration and the risk of customer alienation.
The Customer Service Platform's analytics run constantly in the background of each interaction to ensure that the right bot agent (Billing Bot, Address Bot, etc.) connects with the right customer. And of course, the same bot will cover all conversations on their topic across all engagement channels. Best of all, some bots' roles and cost savings expand over time through advanced machine learning.
ENGAGEMENT WITH ENTERPRISE DATA AND AUTO-SYNC
If a company has information on a customer in any department, Customer Service Platforms can integrate the data and make it useful to agents, auto-syncing across systems throughout each conversation. Both bots and customer service agents see a complete profile of the customer, allowing for greater understanding and better predictive responses.
ROUTING TO SPECIALIST TEAMS
Customers and agents breathe a sigh of relief at this one. Of course, one of the most prominent benefits of messaging over talking on the phone is that editorial buffer, being able to think before sending. Customer Service Platform bots route complex inquiries to specialists on a given subject, rather than simply to the next available agent. These specialized teams find better solutions, not just the first thing that comes to one agent's mind, and fewer agents can serve more customers without sacrificing the personal touch. Service issues turn into opportunities to build loyalty.
REAL-TIME ANALYTICS
Just like gauging the facial expressions and tone of people you talk to in real life, bots and agents alike receive a real-time sentiment analysis. This lets agents and managers jump in if necessary, which ultimately improves relationships. Customer Service Platforms save all data from each conversation and create extremely detailed and illustrative trend analyses and reports. Better data leads to better preemptive measures and issue resolutions.
CUSTOMIZABLE WIDGET
This is perhaps the most helpful element Customer Service Platforms offer agents. They view external data through a set of customizable widgets, which saves them from needing to check any other programs through the course of an interaction. The agent's view of a Customer Service Platform may, for example, display the chat box on the left, followed by up to five equally-sized widgets. If agents need information from a CRM such as SalesForce during a conversation, a custom SalesForce widget can be added right next to existing widgets. To ensure that agents focus on the tools more relevant to them, administrators can assign specific widgets to one or more skill, while unassigned widgets will appear to all agents. Customizable widgets also pre-populate external web pages with visitor information, saving agents and customers even more time.
AUTHENTICATION AND SECURITY
Crucial for mutual trust between businesses and customers! Knowing that your customers are who they say they are is important for any business, so Customer Service Platforms can programmatically verify customer information. Consumers that are logged into either a company's website or app and initiate a chat will show up as authenticated, and they won't need to log in each time. The agent sees the correct, continuously updated and verified profile of the consumer. Customer Service Platforms also encrypt authenticated customer information to ensure its safety (especially important for paying bills or making purchases), both when in use and at rest.
Speaking of security, many Customer Service Platforms (like Neustar, for example) offer immediate assistance in case of cyber attack. Pretty handy to be able to speak with someone who can perform instant damage control during an emergency.
SECURE DEVELOPMENT LIFE CYCLE
In the spirit of maintaining the trust built through authentication and security, many Customer Service Platform developers subject each new release of the platform to a strict set of security tests, including code reviews, static and dynamic tests, and independent third-party vulnerability assessments.
ONGOING ADVANCEMENTS AND CUSTOMIZATIONS
As companies identify new tools and widgets that will support the customer journey, developers can code them as microservices and implement them into the platform. Of course, different businesses have different needs. As companies identify new tools and widgets that will support the customer journey, developers can code them as microservices and deploy them into the platform.
Case Study
Let's take a look at a real example of how a Customer Service Platform can be used to deliver a high quality, seamless customer experience.
1. Kate subscribes to a mobile service provider. She wants to upgrade to a newer iPhone.
2. She texts her provider, via iMessage, "I want a new iPhone. Can you please show me some newer models?"
3. The Customer Service Platform chatbot fields the ABC message and understands natural texting language, can extrapolate key issues from incomplete information (in this case, the customer wants a few options for iPhones that will work with her plan), and assists in auto response and routing.
4. Moments later, the bot replies with several options for new phones and connects her to a Customer Care Agent that can talk through the specifics of each model.
5. Kate eventually chooses an iPhone (Space Grey, please).
6. Since the chat session is fully authenticated and secure, the care agent can send a payment link directly through chat.
7. Kate pays, thanks her agent, and closes the chat.
8. Later that night, Kate logs onto the mobile service provider website and ends up ordering a case for her phone. This transaction is recorded in the Customer Service Platform as well.
9. Two days later, anxious for her new purchase to arrive, Kate texts "When will my phone arrive?".
10. A Customer Service Platform chatbot can pull up both orders from her account and let her know when each piece will arrive.
Conclusion
Whether you run a single brick-and-mortar retailer or a global cloud services corporation, providing your customers with the smoothest possible customer service experience has never been more important for your company's viability. Companies capitalizing on the convenience factor take the lion's share of customers in every industry. Finally, transitioning to a customer-focused business philosophy has never been easier or more effective than it is now, what with Customer Service Platforms doing all the heavy lifting.