The phrase "the customer is king" has been around for as long as business itself. For decades, meeting this ideal was fairly simple: offer quality products at fair prices, hire friendly personnel, and respond promptly to customer complaints and inquiries. Today things are not so simple.
On any given day, a current or potential customer could interact with your brand through your website, via email, on social media, through a PPC ad, via text messaging, or through one of your landing pages. Customers are in charge of when, where, and how they engage with you, and your organization must adapt. Not only do you need to offer an excellent experience on every channel individually, but to attract and retain customers, you also must integrate these channels into a seamless customer journey.
With so many channels, networks, and platforms available for engaging customers, this can seem like an overwhelming task. Fortunately, technology offers a solution.
Meet the new customer journey
For years, organizations have tracked the customer journey — the process that begins when a customer first discovers your brand and extends all the way through the buying decision and beyond. Today the basic framework for this process is the same as it has been for decades:

What has changed is the number of different channels that can be involved in each stage of the process. A customer may, for example, discover your brand through a Facebook ad, download a resource from a landing page, opt in to your email newsletter, visit your website to make a purchase, submit a service request through text messaging, and recommend you to their friends on social media.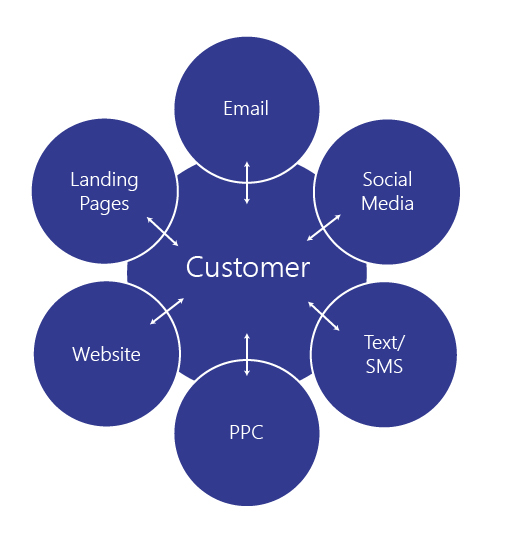 For marketing, sales, and support teams, the question is "How do we coordinate all these channels in a way that creates a cohesive customer journey?"
The high cost of siloed communications
In many companies, a separate team manages each channel in a vacuum, making it difficult to optimize the message, the format, and the timing of each communication. The email team, for example, may have a solid strategy and a good system of tracking which customers have received and interacted with which emails, but do they even know how the social media or SMS team is engaging the same customer?
As a result of this siloed approach to communications, the customer journey can become chaotic. Customers may receive so many messages that they become annoyed and opt out altogether, or they may receive so few that they forget about you. They may opt in to an offer they see on social media and receive an email making the same offer two days later. Or they may make a service request via social media and ask to be contacted via SMS, but the text message never arrives.
Coordinating all these activities manually can involve a tremendous amount of time, effort, and resources. Fortunately, there's a better way.
Streamlining customer journeys with integrated marketing solutions
Today's integrated marketing solutions provide the multi-channel communication tools brands need while also automatically integrating data to present a single, current, accurate view of the customer. The marketplace offers many options, and it's important to review all the solutions available before choosing the right one for your organization. My personal preference is Salesforce Marketing Cloud, mainly because it offers everything you need while also integrating automatically with the Salesforce CRM platform.
The right tools for the job
A robust integrated marketing solution offers your marketing, sales, and support teams a complete set of content creation and delivery tools, built with 1-to-1 customer engagements in mind. A few features to look for:
Email:

 

Personalized email marketing at scale
Mobile:

 

SMS, MMS, and group messaging for promotions and real-time account updates
Social Media:

 

Listen, engage, and publish on a single platform
Advertising:

 

Manage PPC, social, and display advertising at scale
Web:

 

Turn static websites into dynamic, interactive, personalized experiences
One thing we like about Marketing Cloud is that it integrates these apps with each other and with Salesforce CRM, so that your team always has a single view of the customer — not only their contact information, but also every interaction via email, social media, and other channels.
Building the journey
When you evaluate the platforms available, look for one that lets you build and automate customer journeys across email, mobile advertising, and the web. The more robust options let you build personalized "mini-journeys" for custom target audiences, perform A/B testing, set goals, and track your progress in real time.
For example, Salesforce Marketing Cloud offers Journey Builder, which lets you design and execute cross-channel experiences depending on the customer's most recent interaction with you, including purchases, mobile app downloads, or closed service cases. Here are just a few examples:
An onboarding journey for when a lead first engages with you
A satisfaction journey for when a service case closes
A re-engagement journey for when a customer abandons a cart
Tips for integration
Every organization is different, so we recommend that you analyze your business and technical requirements and match them against the various options available to choose the right product for you. Make sure the solution you select meets your needs in term of feature sets, ease of use, integration with existing platforms, support, and pricing. Once you've made your decision and move forward with implementation, keep these tips in mind:
Have all the stakeholders agree on a common vision, objectives, and requirements for your implementation project before you begin the planning process.
Remember to consider resources, estimates, cost, quality, risks, and business processes in your implementation plan.
Create a data migration plan for transferring contacts, opt-outs, hard bounce lists, etc. from your current marketing platform.
Make sure that your data is in good shape before starting the project. Otherwise, your behavioral triggers may be set up using the wrong premise and you may need to redo some work.
Throughout the project, maintain good communication with all stakeholders.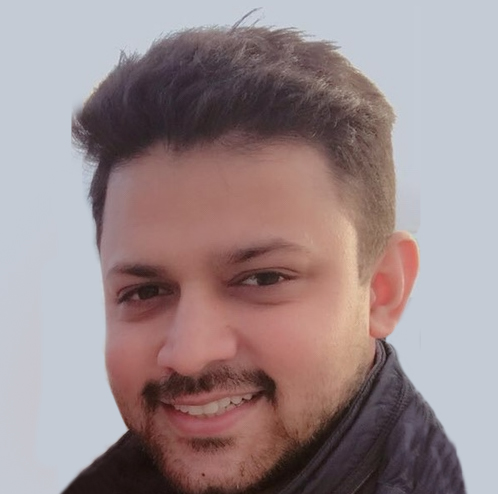 Mohammed Zubair is an experienced software developer with a proven history of delivering results in the big data industry. He is skilled at building ETLs in Hadoop and programming in Golang and Java.