Just over a year ago, my colleague Chris Veal and I saw the opportunity to build a community specifically for Logic20/20 developers. We wanted to make sure that when fellow developers join the company, they know there's a place where they can talk about new technology with kindred spirits, learn and share about what's going on with various projects, get support from their peers when they need it, … and yes, have some fun along the way. 
Here are just a few of the initiatives that keep us connected and foster Logic20/20's "culture of we" among our developers:
Monthly presentations
Once a month, we host presentations on Microsoft Teams where developers share their knowledge about new technologies as well as insights they've gained from current projects. These discussion groups are always well attended, and those who can't join us live can watch the recordings afterwards via our Microsoft Stream channel. Here are just a few of the presentation titles from recent sessions:
• Apache Spark and Databricks; Reactive Programming and RSocket
• Certificates 101, Advanced Analytics, and PowerApps
• AWS IoT and Arduino, Testing Practices, and Apache Airflow
• Maven Archetypes and Kubernetes
• SQL Server Queues, Project Insights (from a current project for a utility client), and Sorting Methodology
Sometimes Chris or I will reach out to a fellow developer to ask them to present, but we've found that our colleagues are very forthcoming in volunteering their time and energy to share their knowledge with the team. It's a testimony to everyone's willingness to help each other and to the community spirit that runs through our group.
Teams channel and subchannels
The Developer Community also maintains a lively Teams channel where team members can post interesting content about technology trends, share learning opportunities (webinars, conferences, certifications, etc.), and collaborate on solutions to each other's challenges: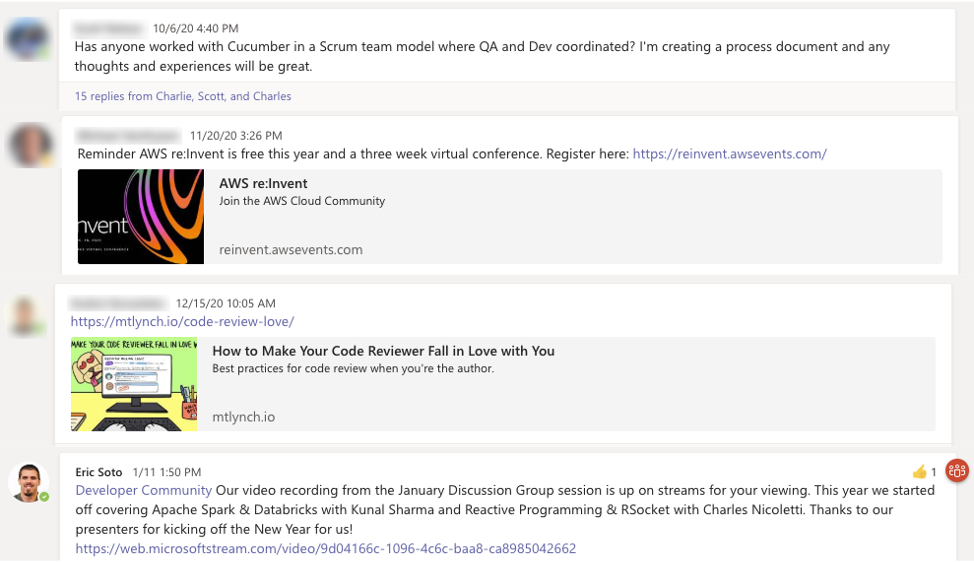 For language-specific conversations, we've created subchannels for AWS, Azure, GCP, Java, JavaScript, .NET, Python, Databricks, GOLANG, Kubernetes, Linux, Rust, and Salesforce. There's even a subchannel dedicated to testing.
Community input
We're always interested in ideas for how we can grow and improve as a community, so we frequently post polls in Teams and send out surveys to encourage input from our colleagues.
Even though our Developer Community is just over a year old, it's already evolved into a lively environment where learning, support, and open discussion are the order of the day. As we move into 2021, we look forward to exploring opportunities to become bigger, better, and even more representative of Logic20/20's "culture of we."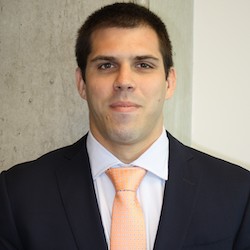 Eric Soto is a developer on the Logic20/20 Digital Transformation team and a Developer Community leader.