How the workplace culture of learning at Logic20/20 is feeding my professional growth and helping me to broaden my horizons.
Coming onboard during a pandemic
When I joined Logic20/20 in April 2020, it was definitely the most unique onboarding experience of my career. The global COVID-19 pandemic had just reached the United States and lockdowns were in full swing, so my introduction to the company was entirely virtual. Even though my only interactions with my new team were via online meetings, I instantly felt welcomed by all. My new colleagues went out of their way not only to make sure that I had everything I needed to do my work, but also to get to know me as a person.
New directions
I was hired into the Logic20/20 Strategy and Operations practice and immediately had the chance to work on some interesting projects. I was able to get hands-on experience in the areas of process improvement and data privacy as well as add value from my experience working with a healthcare organization.
I've always been interested in the power of data science, so I approached my Logic20/20 career coach about transitioning to the Advanced Analytics team. Even though I was still relatively new and most of my background was in a different area, Logic allowed me to make the move, and now I'm looking forward to getting more hands-on data science experience.
Where business and technology meet
One of the things I appreciate about Logic's workplace culture is the focus on building technology capabilities to meet business needs. A project is not just about the technology or the analytics—it's about achieving business goals. Logic makes it a priority to ensure that everyone on a project team understands not only the technical side of our work, but also the business problems we are aiming to solve.
A new role: podcast guest!
Recently I was approached about appearing as a guest on Logic20/20's two podcasts: DigitalNOW and Between Two Consultants. I had never done a podcast before, but I appreciated the chance to share my insights on two topics that are near and dear to me: supply chain management and Lean Six Sigma. While I have to admit that I was a bit nervous, it was a nice challenge for me. I totally trusted our producer and the podcast hosts for guidance and feedback. It is difficult to convey complex information in a way that is easily digestible for a wide audience. Yet another opportunity to expand my horizons!
My first year with Logic20/20 has been quite the experience, full of opportunities to grow and expand … and I can't wait to see what my second year brings!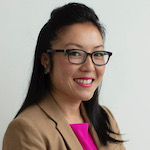 Elaine Cao is a consultant in the Logic20/20 Advanced Analytics Practice.