Founded in 2002, Rainier Scholars is a non-profit organization based in Seattle, Washington. Its mission is to cultivate the academic potential and leadership skills of hardworking, underrepresented students of color. Each year, it welcomes a new cohort of 5th graders into a 12-year academic journey that ends after college graduation. Some of the program's participants are immigrants, while others were born in the U.S. Roughly 87% come from low-income homes and many speak English as a second language.
Logic20/20 employee Ankit Udas, who has been with the company for over two years, is a graduate of the Rainier Scholars program. We sat down with him to hear about how it changed his life.
Logic20/20:
 

Hi Ankit, thanks for talking with us about Rainier Scholars! How were you introduced to the program?

Ankit Udas: Well, for a little background: my family and I immigrated to the US from Nepal in 2004. At the time, my English was super limited. When I entered American public school, I was quiet, observant, and shy. I went through third grade and fourth grade, learning English and American culture as I went. When I was going into 5th grade, I got a letter from Rainier Scholars. I had no idea what it was, but they invited me and my parents to come to an informational session. It turns out they had contacted me based on my reading scores from standardized tests the previous year.
What attracted you to the program?
AU: I was having a hard time fitting in, so it appealed to me to be part of a group that celebrated minorities like me. When my parents and I first learned about it, my mom said she knew how rare that kind of help and those opportunities were, so she pushed me to pursue it. I knew it was going to be a lot of work, but I was sure it would pay off.
What was your first impression when you started?
I was excited but also overwhelmed. The program starts with a 14-month Academic Enrichment Phase (AEP), and for the first Summer, that means full-time summer school. We worked on stuff that was way above our grade level, like To Kill a Mockingbird and The Odyssey. We also did oratories where we memorized passages of books; especially at that age, memorizing and presenting are really nerve-wracking. We did 9th grade algebra, physics, biology, history—you name it. We learned about wide-ranging topics from Frederick Douglass and court cases like Brown vs. Board of Education to forensics and DNA with microscopes and petri dishes. All of this was on top of our regular homework and social life, so it was a lot to take in.
What was the rest of that enrichment phase like?
AU: Those 14 months are really hard. Many kids get discouraged and having advisor support is really important. At home, my parents were worrying about their own problems like paying rent, so having a community form around me and expect more from me—it started to improve my perception of myself and what I could do.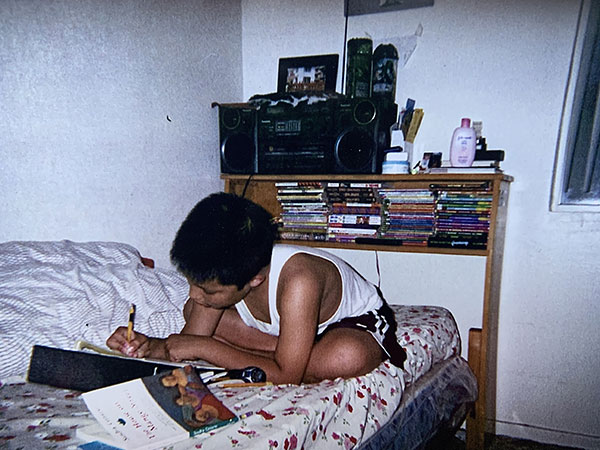 Ankit doing Rainier Scholars homework during his 14-month enrichment phase.
How did your experience change as you moved into middle school?
AU: Each cohort moves through the program as a unit, switching advisors as they grow. After the 14-month phase, the intensive schooling is over; instead, we had an advisor that came in every month to check in on us. We had occasional academic Saturday programs, but otherwise, it became more social. We went to movies, took day trips, and went to fairs together.
That sounds awesome! What were your favorite parts about middle school in the program?
AU: Having that consistent group of people to talk to was super important. It kept me grounded. For my friends that went to private school, their transition was a little isolating since they were surrounded by people very different from them, so Rainier Scholars was a great community to have. Middle school is awkward for anybody, so we just really valued having that social support.
What about high school?
AU: In high school, we did more academic work together. Our cohort was required to attend leadership workshops—usually three per year. They lasted an entire weekend, and we analyzed historical leaders, identified leadership traits, and planned how to integrate the traits into our own lives. Those workshops gave me perspective. I saw examples of people I could strive to be like, and I left with concrete steps to make that happen for myself.
We also learned how to use our summers well. They said I should use the time to pursue internships and enrichment activities. That was helpful for me, especially as I thought about college. Our advisors provided detailed support on how to plan for next steps: SAT testing, job fairs, college applications, and resume building.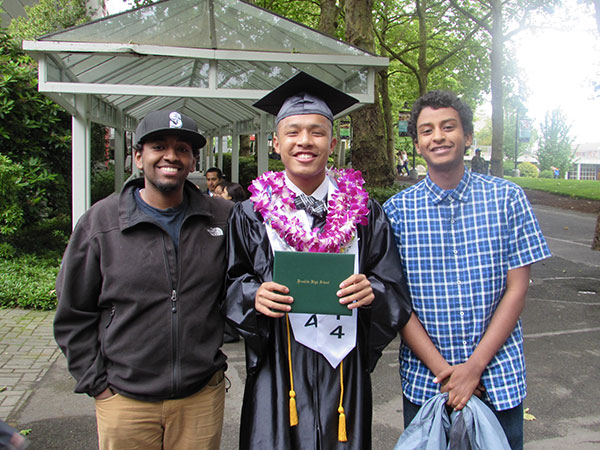 Ankit at his high school graduation with two friends from Rainier Scholars.
How else did Rainier Scholars help you with your career?
AU: As I was moving through college, my community in Rainier Scholars definitely helped me prepare for being in the work world. It's easy to get tunnel vision when you're in school, only focusing on getting good grades. Rainier Scholars gave me a holistic perspective of planning what I should work on. They also connected me with a lot of local companies through their career fair, which invites recruiters from companies all over the PNW. When I entered the job market, I had a really good base of what I could work off of.
Do you think you would have gone to college without Rainier Scholars?
AU: Maybe. It's hard to say. I do know that Rainier Scholars helped me know that I could go. It gave me that vision. Without guidance from my mentors, it would've been a lot harder for me to project that far, work as hard as I needed to, and apply successfully.
How has your involvement changed since you graduated from the program?
AU: A few years ago, I went back to the 14-month Academic Enrichment Phase, this time as an advisor. For minorities, a lot of what stands in the way of our progress is a lack of access to information and guidance. We aren't told about opportunities, programs, or how to navigate pursuing them. This program is like a mindset shift. It teaches kids how to envision their own path and approach every experience in a way that sets them up for success.
I also recently started working as the liaison between Rainier Scholars and Logic20/20. We are working together to expand mentoring, career support, and hiring opportunities, especially now that COVID has made things a lot harder.
"For minorities, a lot of what stands in the way of our progress is a lack of access to information and guidance… This program is like a mindset shift. It teaches kids how to envision their own path."
How does it feel to work for a company that donates to Rainier Scholars?
AU: For me, it's like coming full circle. I'm really happy to see the program I've been with for so long and the company I work for come together. I am currently working as a liason between Rainier Scholar Alumni members and Rainier Scholar high schoolers. I get to see firsthand what kind of impact Logic20/20's support makes. Knowing that we're helping them inspires me to work harder!
What can donations do for the kids in the program?
AU: It depends what stage they are in. Generally, financial donations provide books, boost the field trip budget, pay for classes, fund college scholarships, etc. I remember as a kid, the one thing that I really appreciated was getting a new book. Not a used book with someone else's name in it—a brand new one. Holding it in my hands and seeing it was new made me want to read it! Donations make a huge difference in the engagement and overall learning experience of each one of these kids.
If you had to summarize, what impact has the program had on your life?
AU: Rainier Scholars has been crucial for my life. It gave me confidence in my identity and my abilities and welcomed me into an amazing community. It is truly like a second family to me. The kids I mentor now feel like my little cousins!
It's also helped my family. My sister isn't in the program, but because of what she learned from my experience, she applied and got into a private school. Her whole education changed for the better because of what Rainier Scholars taught us. I have seen similar trickling effects outside of my family, where kids who are not in Rainier Scholars have benefited from the information and guidance Rainier Scholars has given us.
How is Rainier Scholars doing with COVID?
AU: Rainier Scholars has been disproportionately affected by the pandemic and there a lot of new challenges to overcome. For example, it's harder to fully integrate new cohorts into the program. Especially with younger kids, having that physical interaction is really important for establishing connection. The annual lunch fundraiser also had to be canceled, which affects how the program's budget is allocated.
On top of logistical impacts, COVID and social movements like Black Lives Matter (BLM) and LGBTQIA+ rights are starting new discussions about race, identity, representation, and equality. Current Rainier Scholars are facing extra uncertainty during one of most important moments in American history.
What do you see for the future of the program?
AU: Rainier Scholars is about building relationships, working hard, and achieving your goals. I am confident that the leadership and faculty will ensure the kids get the support they need. Every person in the community there has experience overcoming hardship, so I think it will be okay.