The Association for Data and Cyber Governance (ADCG) recently announced that Jill Reber, General Manager of Data Privacy here at Logic20/20, has joined them as the newest member of their Advisory Board.
The Association for Data and Cyber Governance is a membership organization of individuals, companies and other organizations that are interested in building and maintaining their knowledge of data and cyber governance. This includes data protection, data privacy, cybercrime and cybersecurity. These professionals are not usually the technologists, instead they are the executives and employees charged with compliance with the myriad of laws, regulation and standards.
Reber was chosen for her expertise and role as a thought leader in the space. She is an attorney and widely recognized data privacy operations expert, having worked in the industry for over 30 years. She's helped Fortune 500 companies operationalize GDPR, CCPA, and other data privacy regulations to build sustainable data privacy programs.
Logic20/20 applies a methodological and structured approach to developing data privacy and data protection solutions, from setting up Data Privacy Centers of Excellence for clients, to offering Data Privacy as a Service. The West Coast-based firm helps clients across a variety of sectors implement data management practices necessary to meet their customers' privacy expectations and keep them aligned with ever-changing regulations.
The full article published by ADCG is available here: ADCG Announces Jill Reber, General Manager of Data and Privacy at Logic 20/20, as Newest Advisory Board Member
If you would like more information on ADCG, please visit their website here: adcg.org/.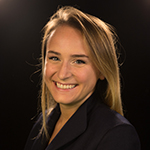 Courtney Lynch is the media contact and Marketing & Public Relations Specialist at Logic20/20. She has spent the last 7 years working in PR and Marketing in various markets, and joined the Logic20/20 team to spearhead PR initiatives as well as help with general marketing.