Matt Trouville is the former team captain of the Houston SaberCats Major League Rugby team. He also was a member of the US National Rugby team and played in the 2015 Rugby World Cup. Since he retired in 2019, he has worked as a Customer Success Consultant at Logic20/20. We sat down with Matt to learn about rugby, why he left, and what made him choose consulting.
Logic20/20: Hi Matt!
Matt: Hello!
Logic20/20: Let's dive right in. You're from Australia. How did you wind up here? You started in the US with the Seattle Saracens, correct?
Matt: I moved over here at 24. I had just finished my degree, had been playing at the same club for five years, and just needed a bit of a break. A friend of mine suggested I come over to America and play for a club over here, so I emailed every single rugby club that was playing that year in the Super League (the highest league at the time.)
The coach of what was then called Old Puget Sound Beach, now Seattle Saracens, was also Australian. He told me the steps I should follow. I applied for a holiday visa, flew over, and never left. That was my first opportunity with Seattle.
Logic20/20: What brought you to Major League Rugby (MLR) and the Houston SaberCats?
Matt: The coach here, the year before the MLR started, a few years before was Justin Fitzpatrick, and he had been approached about coaching the Houston SaberCats. He said to me, listen, there's an opportunity to start a new team, which was very exciting to be behind the scenes of that. He also said, do you want to be the Academy Director? I thought that would be an intriguing challenge as well, being able to play, be the captain, and to run the academy. I jumped on board and my wife and I packed up our Kia Soul and drove across the country in it. With our 130-pound English mastiff and the cat. It was a pretty fun road trip, even though we didn't really all fit!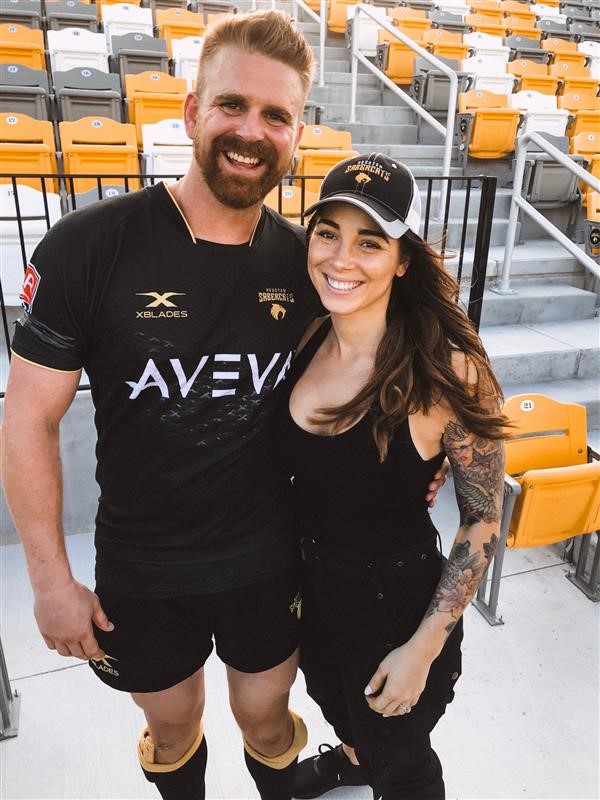 Matt in uniform with his wife (Photo courtesy of Houston SaberCats)
Logic20/20: During your time with SaberCats, you were an ambassador on things like morning talk shows. What was that like?
Matt: It was cool! Sam and I were put in a position to be in the media spotlight because we were hybrid coaches; we knew a lot more about the team and the infrastructure than most of the other players. It was natural for us to go and talk about it and try and get people interested. Since I was also running the academy, I had a lot to talk about as far as youth development, which is super important to the ownership group. One of the main investors has been a youth coach in Houston for 20 years, so that initiative was something that we wanted to share. It was pretty cool to have radio hosts and TV hosts interacting with us and the team at large. Overall, I loved the experience. It's pretty easy to talk about rugby!
Logic20/20: With football, a lot of parents are pulling their kids out because of the injury and concussion rates. Did you notice more kids getting interested in rugby as an alternative to football?
Matt: I wouldn't say it was an alternative, because in Texas, football will never go away. We did get a lot of interest in the low socioeconomic neighborhoods, because other pro teams (Rockets, Dynamo, Texans, etc.) didn't really go to those areas. I went with a few guys on our team to schools in one particularly rough area, and we shared our love of the sport with the kids. We also helped their football team learn how to tackle more safely and more responsibly through rugby-style tackling.
We got a lot of interest for football teams. The work we did in that neighborhood is still going on; we also hold flag rugby tournaments for football players to learn safe tackling. As they get more competent, they move into more tackling-based tournaments and things like that.
We were there to help, since they just weren't getting much attention from anyone else. Some of these kids didn't eat unless they were at school. They couldn't afford to be in big football programs or buy the equipment that was needed. Our role was just to help – we weren't really trying to sell anything. If they were interested in rugby after our time together, that was just a bonus.
Logic20/20: That sounds like quite an experience. You made a difference for those kids! Let's fast forward to later in your career. In your final game as a SaberCat, there were some memorable plays. You were injured and had to get taken off the field! Tell us about that.
Matt: Here in Seattle, I was the [SaberCats] kicker for two years straight. I was quite good because I practiced and took a lot of time to work on it. Our normal kicker hurt his ankle, so I had to! I hadn't practiced in three or four years. Sam said "It's your last game, it'd be a nice touch to kick this" and I looked up, and there were two minutes on the clock. Normally it doesn't take that long to kick. The thoughts were just going through my head: "Don't miss, don't miss!" As I kicked it, I opened up my shoulder, which pulled it left.
I would have liked to have had that one, but it doesn't matter. I think what people couldn't see is a wall. That's what I've been telling people, anyway: there was a huge gust of wind that came out of nowhere, just at that split second and just pushed the ball left. I can neither confirm nor deny it.
Logic20/20: We'll go with that. So, take us from that last game to your decision to move back to Seattle.
Matt: Just before the last game, I was contemplating sending out a message about retiring, going back and forth about it, and I ended up doing it and getting a lot of support.
That made me feel really good about my decision, but also brought the emotion. The whole day, I was holding back, you know, cause I knew this was it. I wasn't able to speak to the team like I usually would before the game, cause I'm a crier.
I did sit a little bit and try to hold it in, and then in the warmup, I hurt my hamstring pretty bad. I knew it was my last game, and nothing was going to stop me from getting out there, so I said "Okay, just wrap me up." If you watch the game, my whole leg is wrapped like a mummy. I told my coach at the time, Paul Emmerich, "You're gonna have to come down here and drag me off." So I played the game and it was incredible to get the win and let all the emotion out during and after the game.
After that, I was still continuing with the Academy, and having lots of conversations with my wife about what we wanted to do next. We wanted to start a family, so we were thinking pretty hard about where we wanted to be and what we wanted to be doing.
I did want to get into full time coaching and had a couple of conversations with the MLR clubs who weren't quite ready to. Then my wife and I had this conversation where we said, "Well, we're both going to be happiest in Seattle." We had lived here together for about five years already, so we looked at each other and knew we should sleep on it. The next morning, we woke up with the exact same feeling, and within a month from that morning, we were in the car driving back to Seattle.
Logic20/20: What attracted you to consulting?
Matt: When we got here, the Seattle team wasn't looking for a coach, so I was looking for other opportunities. I knew Christian (O'Meara, Logic20/20's CEO) and had heard about how he was replicating a team environment in his organization.
To me, where you are is more important than what you're doing. I reached out to Christian, and he said "Let me put you in touch with people." I had three interviews back to back with Logic staff. It was a long process, but it worked out!
In terms of the transition from rugby to business, I actually thought I'd struggle more than I have. Rugby was my whole life for 28 years! I am still connected with teams here, but I'm really excited by the dynamic at Logic. It's actually very similar to rugby.
I think consulting is a great space to use those skills on diverse projects and with a great group of clients and people.
Logic20/20: Aside from leadership, what from your sports background has helped you excel in consulting?
Matt: There are three things that come to mind: communication, empathy, and putting others first.
Communication is critical in any situation. I need to be able to communicate with everyone in a room and get them on the same page to achieve the same goal.
Empathy is the backbone of leadership and of building good relationships, so that's a good skill to have. You have to be empathetic to understand your client and meet their needs properly. The consultant and the team need to understand the client well enough to build the right solution.
Putting others first is also important. If team members take care of each other internally and prioritize the needs of their client, that will translate into high-quality work and build long-lasting relationships.