Quick summary: A methodical, data-driven approach to market sizing helps ensure you're delivering the right product to the right people at the right time.
Companies that are consistently able to stay one step ahead of customer expectations and market disruptors have one thing in common: a relentless drive to innovate.
At this moment, your R&D department probably has an array of innovative products and services—ranging from cardless ATM access to AI-powered virtual financial advisors—that are just waiting for the green light. So, how do you determine which product(s) to launch, when, and to which markets?
To arrive at an optimal answer to that question, market sizing is a good place to start. By taking a methodical, data-driven approach to assessing the size of the market for your product, you can set your organization up for success in delivering the right product to the right people at the right time.
The market sizing roadmap
When we work with clients on sizing the markets for their product or service innovations, we follow a five-step roadmap to build a comprehensive picture that realistically represents the extent of their opportunities:
1. Define objectives: Outline research objectives and hypotheses to test.
2. Establish target audience: Create high-level personas to designate who may purchase/use the product or service.
3. Gather internal and external data: Source relevant quantitative and qualitative data from reliable sources, including industry reports, government data, company data, and expert interviews.
4. Conduct market sizing: Qualify findings to expand on insights.
5. Refine sizing and present findings: Merge data and synthesize into actionable insights.

Assessing the market
Once we've gathered the data, our first step in sizing the market is completing an assessment scorecard to provide the insights needed to make informed decisions. A typical scorecard covers the following areas:
Landscape analysis
A summary of all available information about target markets and/or (for B2B markets) industries
SWOT analysis
Strengths, weaknesses, opportunities, and threats related to business competition or project planning
Portfolio assessment
Elements of the entire portfolio in a business for potential opportunities or synergies
Constraints analysis
Limitation factors related to the new product or service and outlining the risks and opportunities
Competitive research
What direct and indirect competitors are doing related to the new product
ROI estimations
Projections of profitability and return on investment after bringing the product to market
Go-to-market (GTM) projections
Rate of adoption and forecast product life to enable understanding of the high-level product lifecycle
Identifying share of market
A closer analysis of an identified market can provide a more detailed picture of the market size for your product or service. In this phase, we break each market down into three regions:
• Total Addressable Market (TAM): Total market demand for the product
• Serviceable Available Market (SAM): Portion of the TAM that your product can realistically target
• Serviceable Obtainable Market or Share of Market (SOM): Portion of the SAM that your product can realistically capture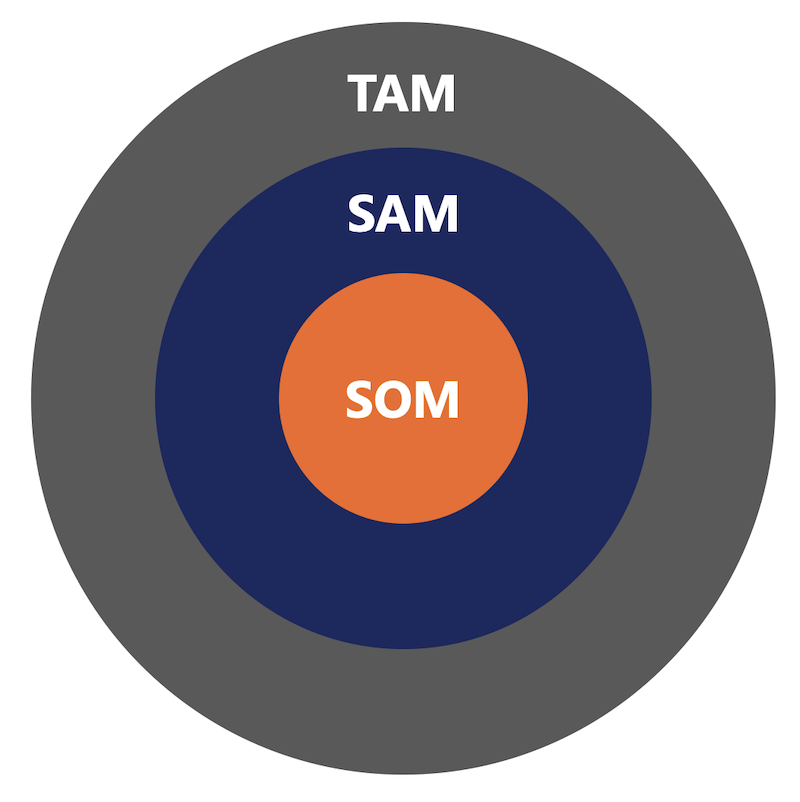 Setting up for success
A comprehensive, well researched market sizing model creates a solid foundation from which to proceed with developing and launching a new product. Following a data-driven approach, produces the insights you needed to make informed decisions about whether to launch the product, how to position it, and how to set prices.
A few final thoughts to keep in mind:
• Because markets are dynamic by nature, market sizing is an ongoing process. Plan on revisiting your market sizing model regularly to ensure that it remains accurate.
• Because markets are driven by people with myriad motivations, market sizing is not a perfect science, and some uncertainty is inevitable. However, processes that incorporate ample amounts of high-quality data can yield a high degree of confidence in the insights they produce.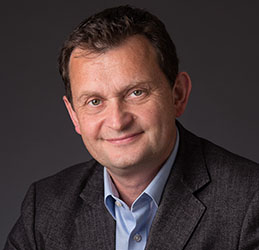 Nick Maddock, Managing Director of Strategy & Operations at Logic20/20, is responsible for consulting innovation and the close partnership between consulting and sales.