Original version published November 2018, updated February 2021.
When you think about pricing strategy, you probably think about for-profit companies cleverly determining pricing for products or services in order to maximize profitability or beat out the competition. Pricing strategies don't seem to fit with the ideals and goals of nonprofit organizations, but surprisingly, there are situations when determining optimal pricing can greatly benefit nonprofits and the important work they do.
Take, for example, the Program for Early Parent Support (aka PEPS) organization serving parents in the Puget Sound region of Washington State. PEPS provides vital support to new parents who may be feeling sleep-deprived, confused, overwhelmed, and isolated. It connects these parents to one another by creating support groups, each with trained facilitators, who guide group discussions and provide educational information about navigating the newborn and toddler years of parenthood. PEPS fosters community, builds confidence in new parents, and educates about the details of raising newborns and toddlers.
Need help with your nonprofit pricing strategy?
PEPS' curriculum has been so successful over the past 35 years that other organizations working with parents throughout the U.S. are interested in licensing that curriculum to support and inform the parents within their programs. Because of this demand, PEPS created the PEPS Network, a licensing program to make the curriculum available to other organizations for a fee. The initial pricing of the licensing fee was determined through a "seems about right" approach. But, after analyzing a few years of financials, they discovered that the low licensing fee was not covering PEPS' investment into the program. This model was not sustainable over time and could even cause difficulties in funding the other parts of their organization down the road. It was time to rethink their pricing strategy.
The pricing dilemma
It's easy for nonprofits to fall into a financial dilemma. On one hand, they want to maximize the good they do in the world by reinvesting profits back into their program. On the other hand, they are working within a low profit margin in order to maintain their nonprofit status. To optimize this balancing act, leveraging pricing strategies is essential.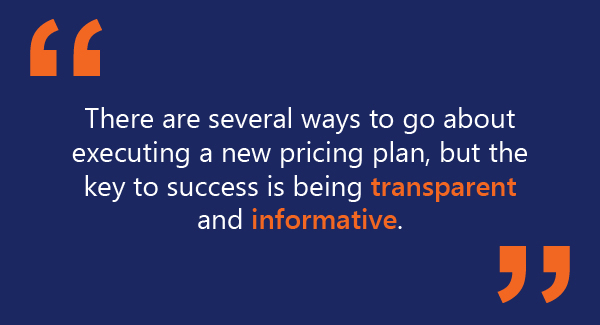 3 steps for nonprofits to develop a pricing strategy
How can a nonprofit organization move from a "seems about right" approach to a "just right" pricing strategy that will encourage growth, allow re-investment back into the community, and aim to serve more customers? Partnering with a skilled expert who can lead the pricing process effort is a great first step. The partner can guide an organization through a three-step process of developing an appropriate pricing strategy with a third-party, non-biased approach.
1. Assess the current pricing strategy
The first step in the pricing process is understanding the current state of affairs, the goals of the organization, and the financial projections based on operation within the current pricing strategy. Organizations should
• Collect data about costs, expenses, and customers served.
• Determine the break-even number and the ideal profit margin required for scaling, sparking growth, and serving more customers.
• Analyze all of this information to reveal gaps, losses, barriers to growth, or unmet goals.
Discovering the details of the current state of affairs is essential in moving toward a more enhanced and beneficial pricing strategy.
2. Determine the optimal pricing model
There are multiple avenues available when it comes to finding the best pricing model to employ. Choosing the ideal model can be a challenge, but armed with the assessment from step 1, a skilled expert can provide a solid recommendation on how to proceed. In many cases, a custom, hybrid solution will be the best approach. For example, PEPS discovered that a combination of cost-plus pricing, competitive pricing, and royalty pricing models provided the best solution to move them toward their goals.
3. Execute new pricing strategy
This isn't as simple as pushing a button. Successful execution of any new solution calls for a detailed roadmap and timeline, including obvious tasks such as revising contracts and billing processes, but also not-so-obvious tasks like managing change. Take into consideration how the new pricing will affect all aspects of the business, from the customers to the employees, and develop a thoughtful plan for how the change will be managed. Ask the questions below to ensure the plan for executing the new pricing strategy covers all necessary bases:
• Will the new pricing be rolled out all at once or gradually over the span of a couple of years?
• How will the updated pricing be communicated to customers or licensees? How will these communications promote the company's increased ability to serve more people?
• Are there benefits to customers or licensees, such as reduced pricing for increased participation or pricing tiers that offer staggered benefits?
The key to success
There are several ways to go about executing a new pricing plan, but the key to success is being transparent and informative.
When a nonprofit organization embraces pricing strategies as an essential tool for optimizing operations, they will be able to reach more people and have greater impact on society. Whether the cause is helping new parents, feeding the homeless, or supporting public radio, any nonprofit with a pricing or donation plan can benefit from an enhanced pricing strategy. The tool used for years to maximize profits can also be leveraged for maximum charitable effect. Who would have guessed?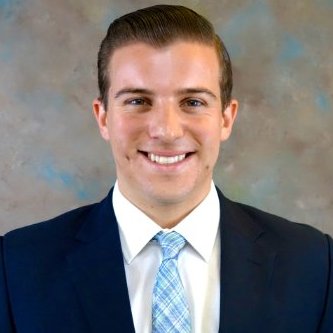 Evan Alkhas is a Strategy Manager at Logic20/20 with extensive knowledge in robotic process automation, virtual assistants, business process optimization, and technical product management.