Quick summary: Shortly after starting his new position as Senior Strategy & Operations Consultant with Logic20/20, Jordan Goff put up a LinkedIn post that quickly went viral in our company. Jordan, being very transparent about his own insecurities, shared how his feelings of self-doubt were allayed by Logic20/20's supportive and welcoming environment. It was a sentiment so many of us could relate to! His story made such an impact, we invited Jordan to share additional thoughts on Logic culture for this article. 
From a (CEO) interview to onboarding 
Like many others at Logic20/20, I was introduced to the company by a previous coworker. The consulting projects and clients sounded intriguing, so I decided to explore the company further. It was one of those pivotal moments where I could either stick with the status quo or step out of my comfort zone and see what else life had to offer. Luckily, I chose the latter.
What started as curiosity quickly escalated. My first interview was with Christian O'Meara, our CEO. Toward the end of the conversation, I decided to be totally honest and shared my goal of working at a certain tech enterprise within the next 2-3 years. I wasn't quite prepared for his unexpected, yet very wise, response. Christian suggested that I go apply at that tech enterprise instead. After a stunned silence due to thinking I had completely botched the interview, he followed up by saying that he would love to have me on the team for those 2-3 years and encouraged me to consider whether Logic20/20 might be a good opportunity to advance my skillset and set me up for success with my desired career path. That opened the door of possibilities for me, and it was my next interview with Marc Tausend that sealed the deal.  
Marc truly embodies the culture and values that I love in this company. He's the reason I took this role, and he's the reason I don't plan on leaving any time soon. He is supportive and encouraging, always asking rather than telling. He's had faith and trust in me from Day 1. And he's not alone. I've learned that at Logic20/20, the value of a "Culture of We" comes first. I felt successful right away because of Marc's mentorship and support throughout the onboarding process and beyond, and the entire team was so great about welcoming me in. It has really helped squash any negative self-talk and allowed me to fully embrace my new role. Some may be interested to know what differentiated Logic throughout the interview process: the conversations really felt like conversations. It was obvious that culture supersedes everything at Logic20/20. 
"What differentiated Logic throughout the interview process? The conversations really felt like conversations. It was obvious that culture supersedes everything at Logic20/20."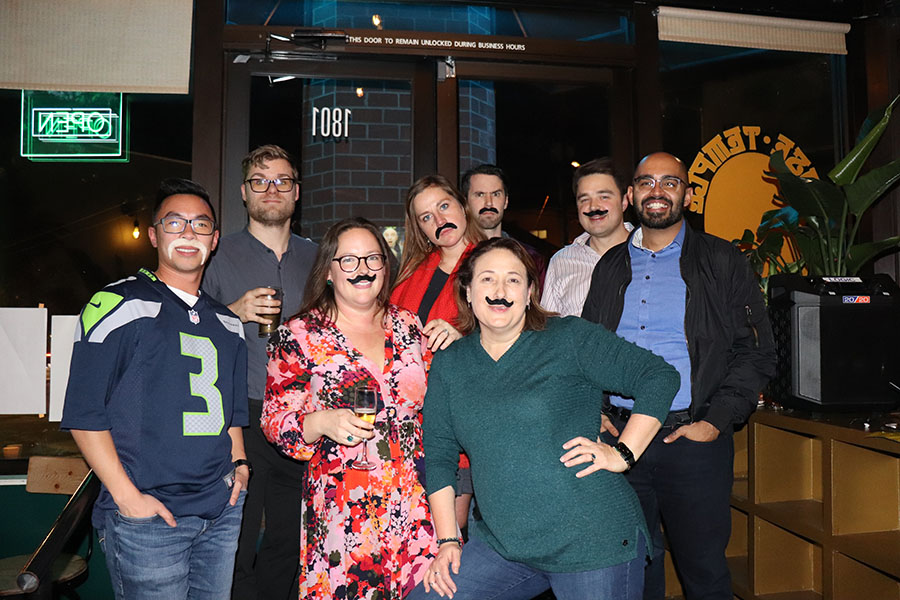 Movember and the supportive company culture
I onboarded in the fall and a company-wide effort for Movember was just one of the many ways Logic20/20 spoke my language. Movember's mission to raise funding for men's health is a cause near and dear to my heart, and I was inspired to be a part of a company that formally supported it too.  
"It's nice to work at a company with the infrastructure in place to support their employees with a variety of endeavors."   
Movember represented just one of the countless ways to get involved and be supported at Logic20/20. The emphasis on culture, combined with the extensive list of ancillary activities, was a huge draw for me. Some of our most popular company-driven events and committees include: 
• Social & Communications Committee 
• Volunteer Committee 
• Happy hours 
• Lunch & Learns 
• Environmental Committee  
• Career & Consultant Advisory Board 
• Diversity, Equity, & Inclusion Committee 
• Peer Recognition Team 
• Book Club   
In 2022, I'm looking forward to getting more involved in our work community. I've found there are essentially two ways of getting involved at a consulting firm. The first is when you're hired to support a client, which requires getting really embedded in your role and understanding what's required to be successful with the client, and then carving out time to sink your teeth into your company's culture. The other is when you're hired either internally or on the "bench," allowing you to immerse yourself into the culture first and foremost. I personally experienced the former here as a consultant with Logic20/20, and have found success thanks to Marc, my team, and a purposeful onboarding process. Now I'm ready to see how I can further embed myself in our company culture!  
Aligning your why 
One of my favorite business-related books is Start with Why by Simon Sinek, and it's clear Logic20/20 has done just that. They started with their why (A Better Tomorrow), then decided how they were going to do it (partner with clients to elevate performance), and finally what they were going to do (use strategy, technology, and data to enhance efficiency, coordination, and velocity). One of the challenges that I think we as a company face, in large part due to the profound changes wrought by the pandemic, is to ensure that our why remains a constant. How are we going to ensure that each person knows the why, can clearly articulate it to our clients, and continue building the culture so that it endures amidst the company's growth? As a team member who associates deeply with the why of Logic20/20, I think the answer comes from an alignment of values. If you relate to a company's why, you'll likely be more engaged and find the culture to be supportive of your career growth.
I'm also interested in getting people engaged, connected, and supported within the scope of our new hybrid work-life, and it's readily apparent that Logic20/20 puts significant time, energy, and money into building a strong culture, effectively investing in its people, and rallying everyone around the idea of "A Better Tomorrow." Whether it's luck or fate, I feel confident in saying that working here has fulfilled my search for a holistic work experience where I feel supported both professionally and personally.
– – – – – – – – – – – – – – – 
At the time of publication, we were working on convincing Jordan to start a Logicians Teams Yoga class.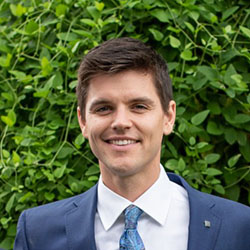 Jordan Goff is a senior consultant in Logic20/20's Strategy & Operations practice.