As the year comes to a close and businesses look ahead to the coming year, powerful technologies continue to be on the rise. Big Data, the Internet of Things (IoT), Industry 4.0, and more are taking hold across industries. The common requirement for businesses seizing these tools and staying ahead? Advanced Analytics.
Below are our top analytics trends for 2020:
1. Natural Language Processing (NLP) and conversational analytics
What it is: Natural language processing is the machine learning mechanism that enables virtual assistants to extract meaning from text and respond appropriately. Conversational analytics is focused on connecting concepts from these conversations and forming actionable insights.
Why it's a top analytics trend for 2020: The year 2020 is key for business adoption of these tools, since according to Gartner, "by 2021, NLP and conversational analytics will boost analytics and business intelligence adoption from 35% of employees to over 50%, including new classes of users, particularly front-office workers." No matter the industry, businesses can expect to see cost-savings and employee retention benefits after integrating these technologies into their business intelligence tools.
Pain points it addresses: Implementing NLP and conversational analytics can help companies struggling to analyze customer interactions, employee concerns that have not been paid attention to, or unable to keep up with service demands.
Use cases:
• Business intelligence dashboards. NLP and conversational analytics improve the ROI of company-wide analysis by supplying more data for business intelligence dashboards.
• Virtual assistants. NLP is one of the key components of a virtual assistant. Depending on how an assistant is used, it can internally help employees and customer service representatives or externally with customers. Companies with low customer service ratings can use virtual assistants to provide more real-time value and handle a higher volume of customer service requests in a more meaningful way which will enhance customer satisfaction.
2. Continuous intelligence
What it is: According to Gartner, continuous intelligence is "a design pattern in which real-time analytics are integrated into business operations, processing current and historical data to prescribe actions in response to business moments and other events."
Why it's a top analytics trend for 2020: As analytics tools deliver business intelligence to human resources, marketing, customer service, and more, continuous intelligence becomes easier. Gartner estimates that "more than half of major new business systems will incorporate continuous intelligence" by 2022.
Pain points it addresses: Companies struggling with siloed data, disjointed processes, or poor insights will benefit most from continuous intelligence.
Use cases:
• Analytics hubs. Visual analytics tools like analytics hubs provide a single source of truth, clearly highlighting data in a way that enables quick decision making by key stakeholders.
• Process optimization. As companies add continuous intelligence to their business processes, they will be able to remove time-consuming or unnecessary steps.
3. Automation
What it is:Automation is the process of making steps in a sequence automatic, reducing the amount of human involvement required to complete a task. Automation is based on machine learning and artificial intelligence technologies.
Why it's a top analytics trend for 2020: If implemented correctly, automation saves time and money. As analytics tools become more integral to business operations, automation allows companies to gather and process data faster.
Pain points it addresses: In analytics, automation can help companies struggling to keep up with high data volume, unable to create insights in real time, or trying to integrate new types of data.
Use cases:
• Robotic Process Automation (RPA). One emerging technology for 2020 is robotic process automation, in which machine learning algorithms can automate repetitive tasks. According to Forrester, RPA will reach $7.7 billion next year and will grow to $12 billion in 2023.
• Data entry for business intelligence. Employees feeling the weight of time-consuming data entry tasks will benefit from automation.
4. Data privacy and explainable AI (XAI)
What it is: Data privacy (or information privacy) is the concept of securely handling, storing, and accessing personal data. This includes both actively submitted data and observed data, from health records and phone call records to online posts and access history. Explainable AI (XAI) is a best practice for creating artificial intelligence tools that can be easily understood by humans, thus improving data visibility and data privacy practices.
Why it's a top analytics trend for 2020: With the implementation of GDPR and CCPA coming in January 2020, businesses are knee-deep in data privacy regulations and scrambling to put systems in place for the future. Though CCPA is a state law, abiding by it will effectively require companies to change their data privacy practices nationwide.
Pain points it addresses: Data privacy and XAI should be top-of-mind for all companies, since data collection and production are part of modern business practices. However, companies with any kind of analytics programs in place will need to adjust, particularly those with poor data management, issues with data security, or newly implemented AI solutions.
Use cases:
• Healthcare planning. Analytics tools can be enormously helpful to healthcare companies, but only when aligned with data privacy best practices to handle sensitive personal information.
• Information security in the education sector. Data privacy and explainable AI are essential to keeping information secure, such as with predictive analytics tools that help reduce high school dropout rates.
Analytics in 2020 and beyond
These top analytics trends for 2020 will continue to improve, optimizing productivity and delivering insights that allow businesses to operate more effectively than ever before.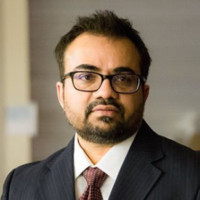 Prashant Ganjikunta is an Advanced Analytics Practice Area Lead with diverse experience and skills including business intelligence and strategy, program management, and cloud computing.