At Logic20/20, we believe that strong communities create a foundation where we can all thrive—as individuals, as a company, and as a society. We're proud to encourage and support our team members at all levels who dedicate their time and talents to organizations that are making our world a better place.
To honor those who go above and beyond in supporting worthy causes, we created the Volunteer of the Year award, which goes out annually to a Logician whose spirit of service can inspire us all. The winner receives a cash prize as well as a donation from Logic20/20 to the organization of his or her choice.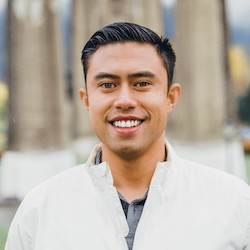 For the year 2020—a particularly challenging time for volunteer efforts—we are delighted to honor Colin Moy, Customer Success Manager.
Colin was recognized for his tireless effort supporting no fewer than three worthy organizations:
• As a co-founder of the West Seattle Wildcats Youth Rugby Club, Colin manages club operations in addition to coaching a team every season.
• He's on the leadership team for the Pacific Northwest Leukemia and Lymphoma Society, where he supports the philanthropic leadership development program for high school students while mentoring and motivating high school students participating in the Students of the Year campaign.
• He also donates his time regularly to the Boys & Girls Clubs of King County, supporting fundraising auctions and helping with the various needs across their Clubs. In Fall 2020, Colin coordinated with the Logic20/20 Volunteer Committee to organize a socially-distanced volunteer workday for his fellow Seattle Logicians (pictured).
"I come from a long line of teachers," Colin says, "so the desire to help others through teaching, coaching, and other community development opportunities has always been ingrained in me. Each of these organizations is important to me on a personal level, and it's a pleasure to do what I can to help them thrive and increase their impact on the communities they serve."
"Colin is a wonderful example of finding your passion and then putting your heart and soul into it!" says Ellen Boyer, CFO and executive sponsor of the Volunteer Committee. "Whether it is working with sports and kids or taking a personal loss and focusing on increasing the odds of a more positive outcome in the future for others, Colin invests his personal time in his passions. His volunteer activities expand our 'Culture of We' into the broader community and 'Drives toward Excellence' by investing his time into a longer-term solution. Thank you, Colin, for being a Logic20/20 ambassador in our community."
We congratulate Colin on his award and on his outstanding contributions to our communities. Keep up the great work!