Quick summary: In Logic20/20's culture of innovation, every employee has the freedom to follow their passions and create their own unique impact on the business.
When people ask me why I still work at Logic20/20 after more than a decade, my response is always the same: I stay for the same reasons that I came on board. I wanted to join a consulting firm that had the feel of an industry leader—but without the restrictive hierarchy or the notion that your job title or years of experience should limit your ability to have an impact on the business. That was absolutely true of Logic 14 years ago when I arrived, and it's still true today.
For a new person joining Logic, the opportunity to work on interesting projects and build innovative solutions is just the beginning. Not only are we open to our team members expanding into new areas—we light up when we find people who have that spark of initiative to lean forward and grow beyond their job descriptions.
One of our managers has cultivated deep expertise in Agile methodologies and has a passion for teaching. Since she joined Logic, she's been on a mission to put her expertise at the service of her peers and the company as a whole. On her own initiative—and with her manager's support—she created an Agile Center of Excellence, an internal site featuring curated content from the most trusted sources, as well as an Agile Teams channel where she makes herself available to answer questions. She has also been instrumental in helping Logic20/20 refine our Agile-focused offerings in a way that delivers the greatest value to our clients.
Other examples of Logicians broadening their horizons include
• Contributing expertise to refine technologies that are now patented
• Building a Diversity, Equity, and Inclusion (DE&I) Committee that is now the key driver for education and company-wide initiatives
• Developing the necessary skills to transition across practice areas, from Strategy & Operations to Advanced Analytics
• Taking a passion for consulting and mentorship into a collaboration with HR to build a new onboarding training program
When you join Logic20/20, you set out on a career path that can take you almost anywhere your passions lead you. The only condition is that you take the initiative and work with the people who are here to help you succeed. So … where will your Logic journey take you?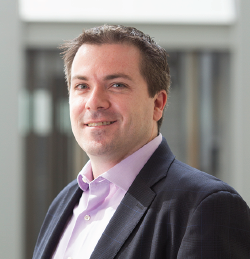 Travis Jones is the Senior Vice President of Sales Operations & Administration at Logic20/20.