For years, businesses have been chasing the holy grail of a true Voice of the Customer (VOC) analysis—a 360-degree view that reveals everything they need to know about their customers. In many organizations, this aspiration can lead down a rabbit hole of random data sources and applications that offer at best only a fraction of the insights they need to achieve their goals. Some may try to make do with what they have, while others may be tempted to give up their quest altogether.
The good news is that building a successful Voice of the Customer program is possible, if it's approached strategically. When organizations can do three things—and do them well—VOC analysis can turbo-charge their efforts to heighten the customer experience and increase customer satisfaction:
• Determine specifically which questions need to be answered.
• Access clean, reliable data that can answer those questions.
• Present the data to those who need it, in a way that makes it easy for them to make data-driven decisions.
Voice of the Customer: more than just surveys
When most businesses think Voice of the Customer, the first thing they think of is VOC surveys. Yes, surveys can offer valuable insights into what customers are thinking, but they only present part of the picture.
Any given customer's experience with your brand is made up of hundreds of touchpoints—think of every interaction that occurs in person, on your website, over the phone, via email, through mobile apps, etc. Surveys do a good job of revealing a customer's thoughts at a specific moment in time, but to achieve the desired 360-degree view, you need more. Lots more.
Here's just a sampling of the various inputs that can go into creating an accurate Voice of the Customer analysis: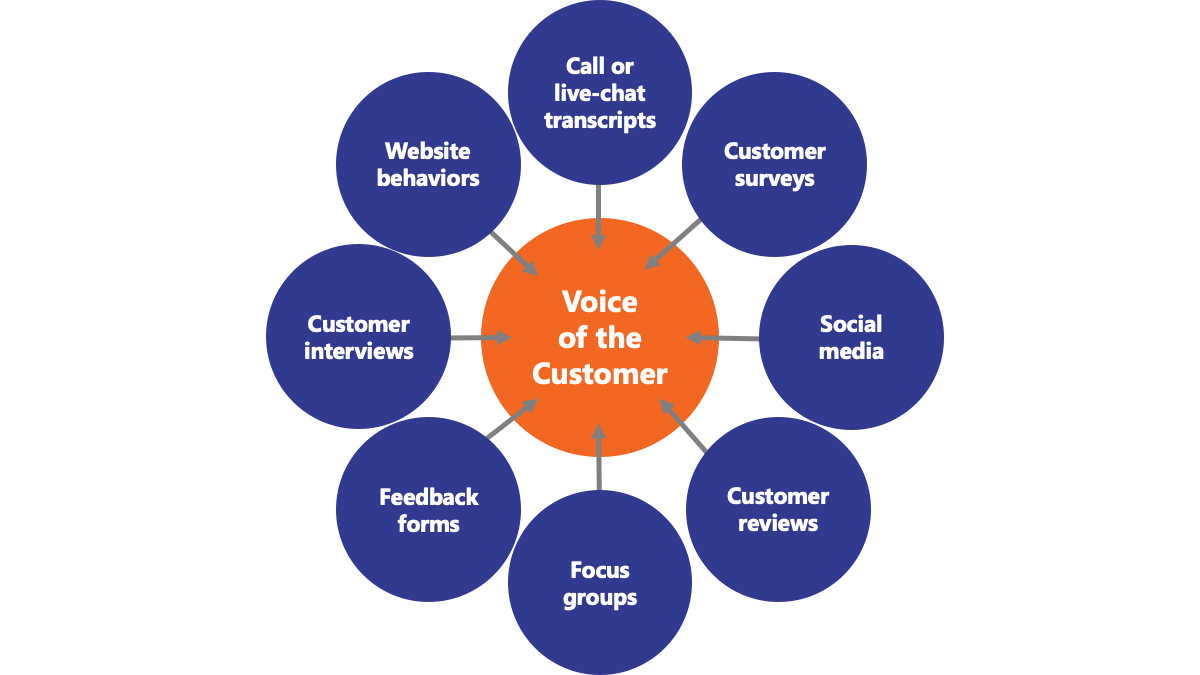 Chances are you already have much of the data you need to build a strong Voice of the Customer program. Which brings us to the fun part …
From data to analytics to insights: the road to VOC nirvana
When we work with clients on their Voice of the Customer analytics, we take them through a workshop where we build wireframes of laser-targeted dashboards aligned with their strategic objectives. This step-by-step process enables us to begin with the end in mind—the goals they want to achieve—and work back from there to determine the specific questions their dashboards should answer.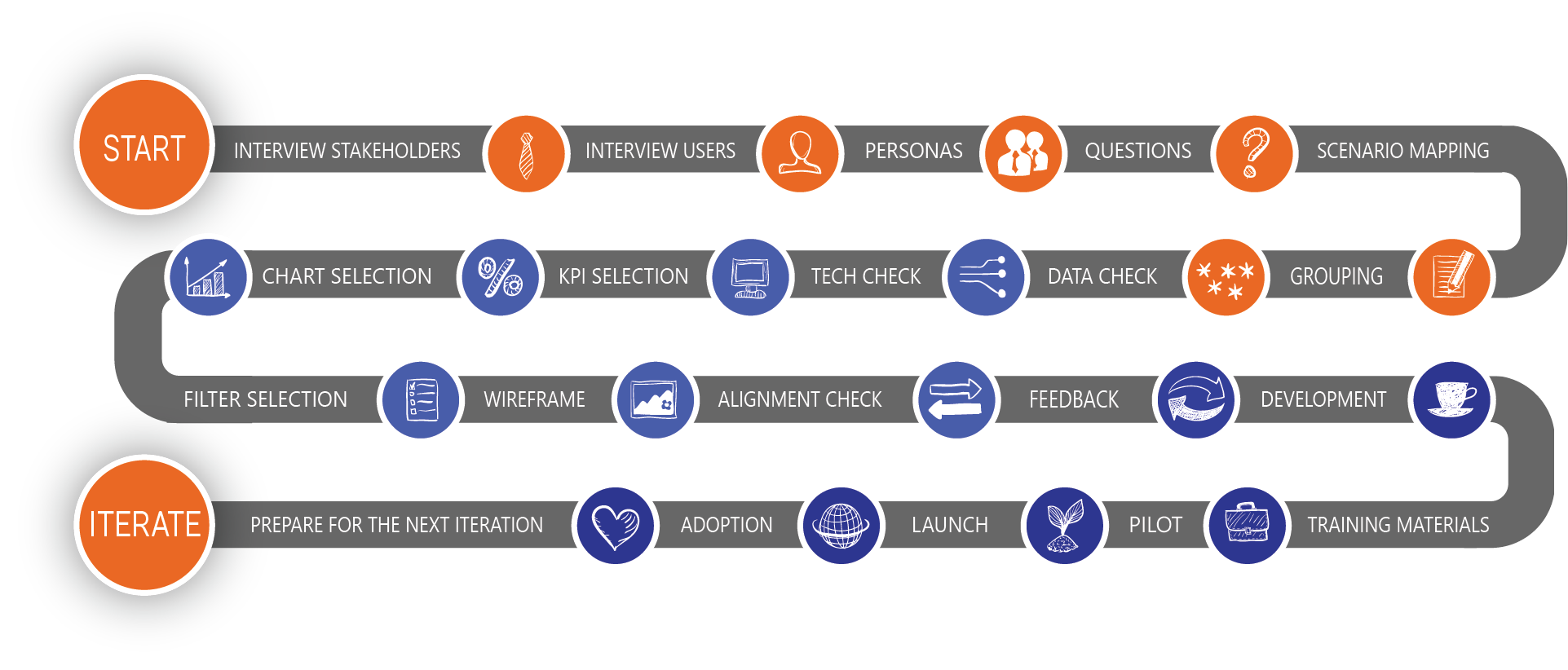 An effective VOC dashboard draws in data from multiple sources to present the user with an easy-to-digest view of the metrics that are important to them, eliminating the need to sift through irrelevant information. When users view these KPIs over time, they can immediately identify changes that might require an intervention—or indicate a new opportunity.
Our dashboarding workshops are intensive sessions that offer a deep dive into the client's specific situation; here's a quick overview of the steps we walk through:
1. Identify personas for stakeholders (e.g. VP of Marketing) and end users (e.g. Customer Experience Manager).
2. Determine and prioritize the specific challenges being faced by each persona and the strategic goals that each wants to achieve.
3. Document and prioritize the questions they need to answer to advance towards their goals (e.g. "Which customer segments generate the highest profits?").
4. Use the highest-priority questions as a starting point to wireframe dashboards tailored for each persona.
Of course, building the wireframe is just the beginning of the trek towards an effective VOC program. There's plenty of hard work between the starting line and the final goal of adoption and iteration. But once you do arrive at the finish line (and start planning for future iterations), your users will have the exact insights they need to make decisions that will keep customers coming back over and over again:
VOC and unstructured data: customer perceived value
In planning and designing Voice of the Customer analytics, we inevitably run across data that doesn't fit neatly into rows and columns. Customer perceived value (CPV), for example, is a vital attribute that compares the customer's perceived benefit from the product or service (time or money saved, comfort, security, prestige, etc.) with the perceived cost of acquiring it (not only purchase price, but also time costs, energy costs, etc.). As you can imagine, creating a trackable metric that accurately represents CPV is a complex process involving structured and unstructured data from a vast array of sources.

With a well-architected Voice of the Customer program, you can integrate a wide variety of data from multiple sources in assessing CPV and present it to business users in an easy-to-understand format. Tracking this metric over time enables users to make timely, data-driven decisions regarding pricing, product features, marketing, and other factors, based on data that reflects actual customer perceptions.
Okay, VOC analytics dashboards—check. Now what?
Once your VOC dashboards are in place—and you've implemented best practices in change management to ensure adoption—users in multiple areas can leverage the insights they gain to drive real improvements in customer satisfaction. Just to name a few …
Customer service analytics can prompt CX leaders to explore changes such as hiring more call center agents, investing in new technologies, or implementing new channels.
Support analytics can alert tech support leaders to a need for technology-specific training, closer coordination with product teams, or ticketing system upgrades.
Product development analytics can make product owners and managers aware of a need to expand market research, speed up go-to-market timeframes, or increase customer input on product designs.
VOC in action: a case study
When Microsoft wanted a better understanding of customer satisfaction across the buyer's journey for Microsoft Surface and Microsoft Office products in their online and brick-and-mortar stores, they asked us for help.
First our team implemented listening mechanisms to capture feedback across each step of the customer journey. Then we developed analytics dashboards to help our client visualize customer data on an ongoing basis. With these elements in place, we helped the client redesign their customer input tools to deliver better data across the customer journey.
As a result of our efforts, our client at Microsoft can focus on specific customer needs at each stage of the buyer journey and optimize experiences to heighten customer satisfaction. The VOC framework we developed was so successful that Microsoft used it as the standard to be applied for other products.
Welcome to the future of VOC
In today's highly competitive environment, where customer sentiments and expectations can change on a dime, Voice of the Customer analysis is a must-have for any organization hoping to attract and retain more customers. By keeping a finger on the pulse of what customers are thinking, feeling, and saying—and funneling that data into a decision-making tool—businesses can translate information into decisive actions that feed directly into experiences and earn loyal customers for life.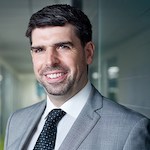 Nick Kelly is the Director of Visual Analytics at Logic20/20. He is a hands-on leader in analytics with over 20 years of international experience in analytics and software development, deployment, adoption, and user experience.